Juxtapoz
MONICA CANILAO "Born From Ruins" @ Subliminal Projects, Los Angeles
Jun 07, 2014 - Jul 05, 2014Subliminal Projects, Los Angeles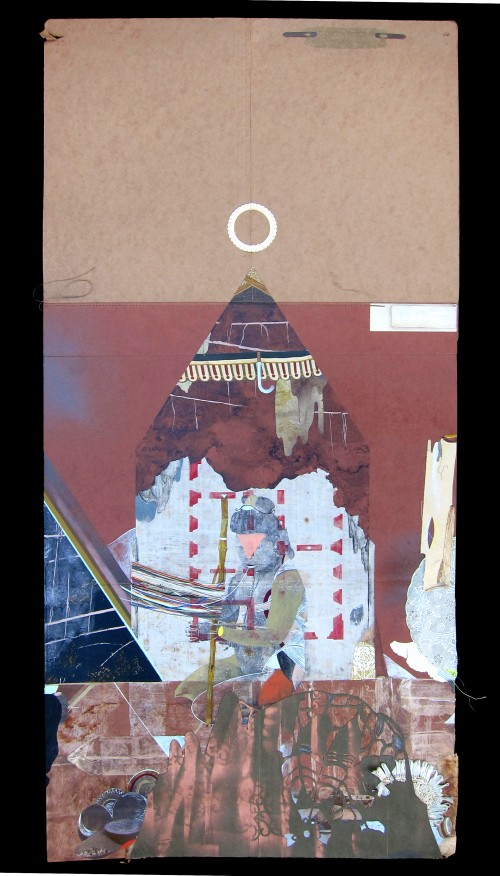 SUBLIMINAL PROJECTS is pleased to present Born From Ruins, the first solo exhibition in Los Angeles for Oakland based artist Monica Canilao. The exhibition will feature a prolific range of Canilao's work including an immersive site-specific installation, a crystal coffin, junk chandeliers, mixed media collages, a paper quilt, parlor portraits, works on paper of painted birds, and a new series of never-before-seen Shibari inspired photographs.
You may remember that we did a little studio visit with Monica a few weeks back, as she was preparing the work for Born From Ruins.
When creating her gallery-wide installation, Canilao will incorporate treasured objects she has collected during her travels as well as items gathered specifically for Born From Ruins. The gallery will transform into a dream-like space, enveloping viewers in a visual display of life, death, and rebirth. Everything used in Canilao's wall works and installations are made from found and recycled materials, serving as tokens from her past experiences, her surroundings, her travels, and her memories. These elements provide a direct and celebratory reference to the deep roots of humanity's complicated relationship with the environment and our place in the natural world.
Canilao's work evolves with each new venue – taking on a life of its own that is tailored to the exhibition location. Compositions seamlessly meld the old and new, reminding us that everything built is made up of things in a phase of decay. Paint, graphite, metal, bone, cloth and other found remnants are stitched and built upon 19th century parlor portraits of forgotten figures. Themes of gender and the visual language of documenting personal histories through decoration and ceremony are explored as Canilao rebuilds and enshrines narratives of forgotten lives. A series of painted birds explores ideas of adaptation, divergence from normality, and elegant decoration. A paneled quilt made entirely from paper and photographs Canilao collected from abandoned buildings in Detroit will hang as part of the installation…a collage of parts birthed from pieces of a broken city once whole.
Central to the installation will be a crystal coffin lit from within and backed by dark, woven walls. It represents the literal and figurative necessity of letting go of what is now lost and adapting to life without. The tomb captures a dark chapter in the artist's life and reminds us that though life moves forward, moments can exist as crystallized memorials. Born From Ruins will also feature a series of collaborative photographs inspired by a Shibari performance Canilao recently attended. Canilao was mesmerized by the beauty of the knotted ropes used in Shibari and the visual contrast of their lines pressed against the curves of the human form. She headed a collaboration that combined her elaborate costuming with the ancient tradition of Japanese knot tying to explore recurring themes of ceremony, magic, sensuality, vulnerability, and strength. She engaged in Shibari suspension as a means of processing heartbreak and as a tool to mystify and empower, versus sexualize the body. This new project is her first step toward translating the worlds she makes on paper into more personal and performative ones using the camera and collaboration.