Juxtapoz
Mollusk Surf Shop's Big Sur Jamboree, Sept 27—28, 2013
Sep 27, 2013 - Sep 28, 2013Fernwood Resort, Big Sur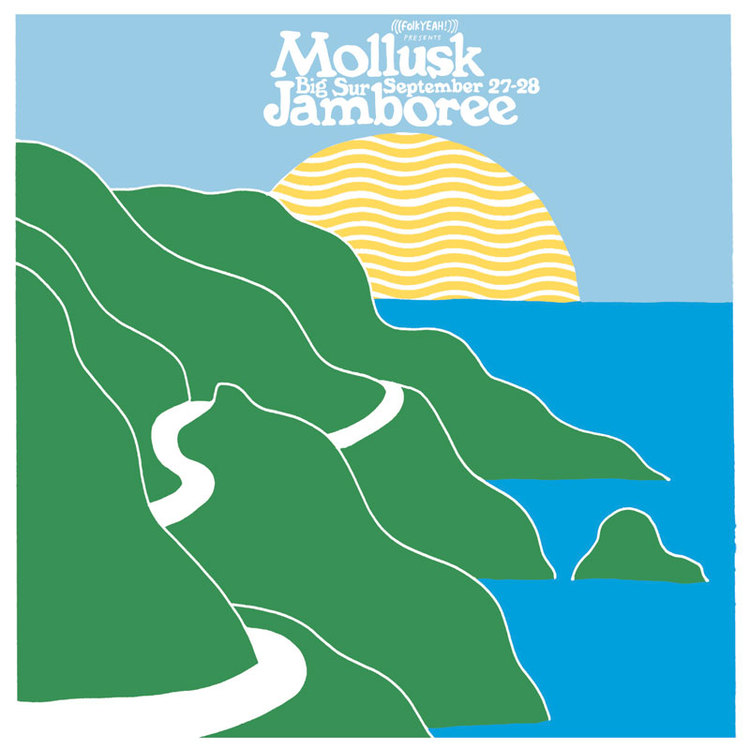 We can't wait for this. Mollusk Surf Shop is taking their fantastic aesthetic down to Big Sur for a Big Sur Jamboree, a weekend of music, art, camping, probably a campfire, and a renewed sense that you need to read more. The Mollusk Big Sur Jamoboree will take place September 27-28, 2013, and with the help of (((folkYEAH!))), will present musical acts Vetiver, Beachwood Sparks, a Cass McCombs super group, Little Wings, and many more.

Artwise, Nat Russell, featured in our April 2013 issue, did some of the poster work, like the one seen above. And Jay Nelson, one of Northern California's most talented artists, will create a site-specific installation.

Here is the official press release:

Mollusk Surf Shop has partnered with specialty musical events creator, (((folkYEAH!))) to stage the MOLLUSK BIG SUR JAMBOREE on September 27 to 28th. Two days of music, camping and ensuing fun, set amongst the redwoods on the banks of Big Sur River at Fernwood Resort.
We have collaborated closely with (((folkYEAH!))) in selecting a myriad of musical acts, many of whom are friends and affiliates of Mollusk and staples of (((folkYEAH!))) events. Acts include:
Vetiver, Beachwood Sparks, McCombs Skiffle Players (a once in a lifetime Cass McCombs super group), Allah-Las, Sonny and the Sunsets, The Autumn Defense, Little Wings, Neal Casal, Chris Cohen, F.D and the Wizards of the West All Stars, Range of Light Wilderness, The Mattson 2, Sandy's, The Tyde, Tomorrows Tulips, Simone Rubi, Birds of America, Matt Baldwin & Nico Georis, Gnagoriaceht, Honeycrisp plus special guests and secret late night jam sessions!
Alongside the music, San Francisco-based artist, Jay Nelson will create a site-specific installation. We encourage you to pack you lunch, dinner, wine, beer whatever you feel pairs well with the Jambo. If not food and drink will be available onsite. Exclusive Mollusk event merchandise will also be available to purchase onsite.

Tunes you may here include...