Juxtapoz
Misaki Kawai "Hair Show" @ The Hole, NYC
Oct 15, 2013 - Nov 02, 2013The Hole, New York City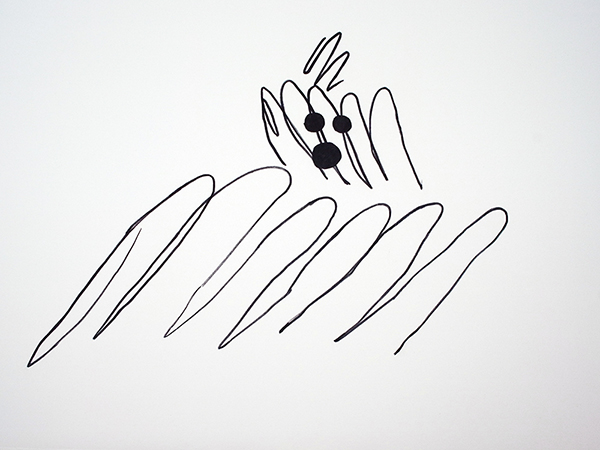 The Hole is proud to present the much-anticipated first solo exhibition by Misaki Kawai at a New York gallery in six years. In Hair Show, Kawai will present large scale sculpture, painting, drawing and furniture. After traveling around Asia for the bulk of 2013, Kawai returned to her studio in Brooklyn with not only tons of sketches and ideas but also materials gathered from Tibet to Vietnam; all manner of fabric, textiles and her favourite pom-poms. These materials are incorporated into her world of whimsy as she turns drawings into paintings, sculpture into wall works, sketches into furniture, transmuting simple materials into new characters.
We gathered some archival images of Kawai's work on the site today, to give you an idea of her past installation and painting works.
The enormous sculpture in the show, Max, is based on a dog Kawai sees every day being walked on her block, a black Scottish terrier, and the artwork comes with oversized combs for you to comb him with. Max also inspired comb-able paintings on the walls of various other breeds that come with various other sized combs. Throughout the space you can sit on sculptures by the artist made into jocular benches including Bubble Bench, a line of of large boobed ladies. From your boob you can survey the myriad paintings in the exhibition, some made with yarn, crumpled paper, or the huge charcoal on canvas paintings (as above) where her image-making is pared down to the most bare shapes and lines.
Kawai's work fits well into Japanese artist King Terry's appellation of "Heta-Uma" or Bad Good, so off or so basic or so wrong that it is right. Her world of personified objects, boobs butts and farts, animals and plants, are all communicated in a rudimentary but evocative way. Similar to the approach of American artist Donald Baechler, her images are basic and repeated, clowning and playful, childlike without being childish. Their minimal suggestiveness inspires us to read shapes and forms in a new way and to see unexpected things in the world around us.