Juxtapoz
Mike Mills Posters for Commune Design
July 31, 2012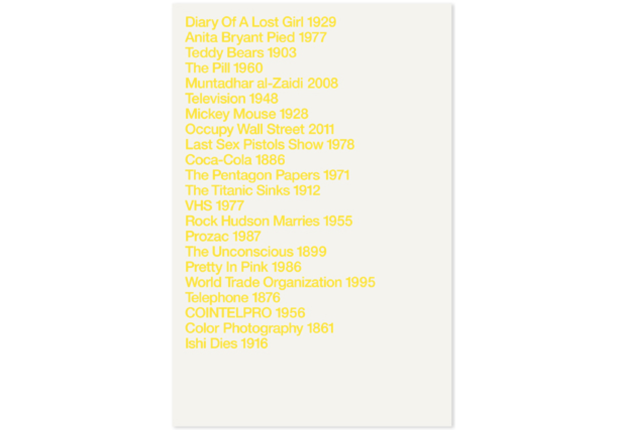 Mike Mills, the filmmaker behind
Beginners
and
Thumbsucker
, and a designer and fine artist in his own right, has designed 5 new posters for Commune Design that our now available on their website. Paper Chase Press are the ones behind getting the limited edition posters printed, and Mr Mills (
featured in the January 2010 issue
) has some good words/phrases to say about, and written on, each poster.
For example,
the top poster has the text
"1974 Robert Opel streaks at the Academy Awards ceremony. 'I am Robert Opel. I am an artist, a cocksucker and an anarchist. My life is my art. Sometimes I use a camera. Sometimes I have trouble disseminating images. I record because people seem to be frightened of sexual imagery. Men like myself have been feared and persecuted because of our sexual preference. But I persist. Eventually, I believe I will receive wider attention.' April, 1979"
Or below,
"These posters were made with the wildness, inhibition-shedding sophistication, and willful self-destruction of women like Zelda Fitzgerald, Louise Brooks and Anita Loos in mind. They were made for the women who sat in Werner Werkstatt interiors in the 20s, to be in the bedrooms of the women who wore Klimt dresses. They were made for the women who drank, smoked and lost their way with a self-conscious fervor that we are still exploring/suffering from today."
Buy the posters here.