Juxtapoz
Meleko Mokgosi "Pax Kaffraria" @ Honor Fraser, LA
Apr 19, 2014 - May 31, 2014Honor Fraser Gallery, Los Angeles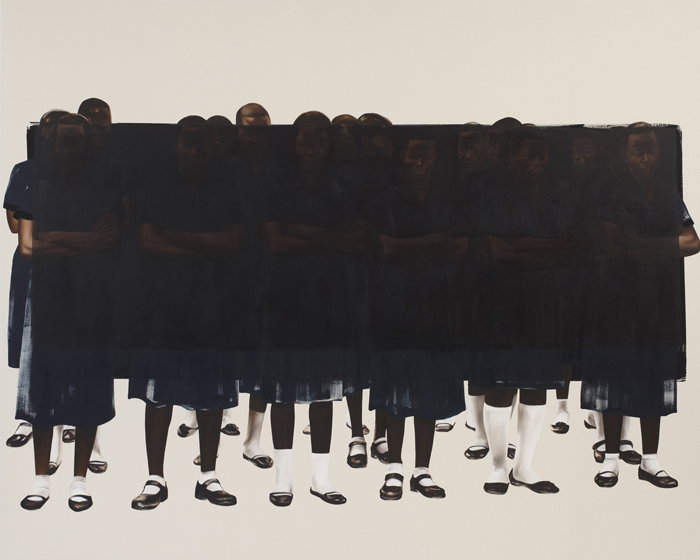 For his debut solo exhibition at Honor Fraser Gallery, Meleko Mokgosi will present the final chapters of his three-year long history painting project Pax Kaffraria. The exhibition will also include a series of charcoal drawings of iconic breeds of southern African dogs and text-based paintings interrogating recent exhibitions of African Art and imagery of Africa.
This culminating exhibition of Mokgosi's Pax Kaffraria follows exhibitions of the earlier chapters of his project at the Studio Museum in Harlem, NY, the Hammer Museum for Made in L.A. 2012, and most recently Pax Kaffraria: Terra Pericolosa at the Yerba Buena Center for the Arts, San Francisco, and Pax Kaffraria: The Ruse of Disavowal at the 2013 Biennale de Lyon. The Ruse of Disavowal and new chapters Graase-Mans, Fully Belly, and Lekgowa will be included in the exhibition here.
Pax Kaffraria as a whole articulates the incommensurable aspects of the post-colonial condition through strategic structuring of moments and fragments that exceed traditional structures of authority and representation. These unmoored narrative pulses are local and particular, a counterpoint to the metanarratives of nationalism. Pax Kaffraria: Graase-Mans parses the legacy of the Western European frontiersmen who established new colonial states across southern Africa in the 1830s. Domestic scenes reveal colonial dynamics at their core. In Pax Kaffraria: Fully Belly, we see the coronation of a chief with contemporary and "traditional" elements diachronically combined in the anointment of authority. This work, which explores the economic and political legacies of neopatrimonialism across Africa, touches upon the connections between governmental authority, customary law, localized politics, and the military, and the effects of privatization on all of these institutions.


Mokgosi's charcoal renderings of distinctly southern African breeds of dogs tease out the political, emotional, and economic aspects of the legacies of colonialism. Appearing throughout the Pax Kaffraria project, these dogs show how domesticated animals occupy an important role within the purview of human history and the struggle of southern African nationalisms in particular. With his text-based paintings, Mokgosi addresses the problematic re-inscription of colonial discourses by using museum labels as source material. He makes critical interventions in the didactics that structure the way the public understands works of art, systematically deconstructing the power dynamics and cultural biases that underpin these presumably neutral, educational texts. Mokgosi's commentary on these labels is at times personal, emotional, analytical and poetic and inserts an individual voice to counter these institutional constructions of history. Mokgosi interrogates the implications of established histories and the narrative as a concept, playing with notions of time and normative models for the inscription and transmission of history, ultimately disrupting traditional Euroethnic notions of representation. Mokgosi offers different ways of understanding representation—epistemological, ideological, symbolic—undercutting traditional structures to posit alternate modes for the creation of knowledge through language.