Juxtapoz
Masakatsu Sashie "Coacervate" @ Jonathan LeVine Gallery, NYC
Oct 19, 2013 - Nov 16, 2013Jonathan LeVine Gallery, New York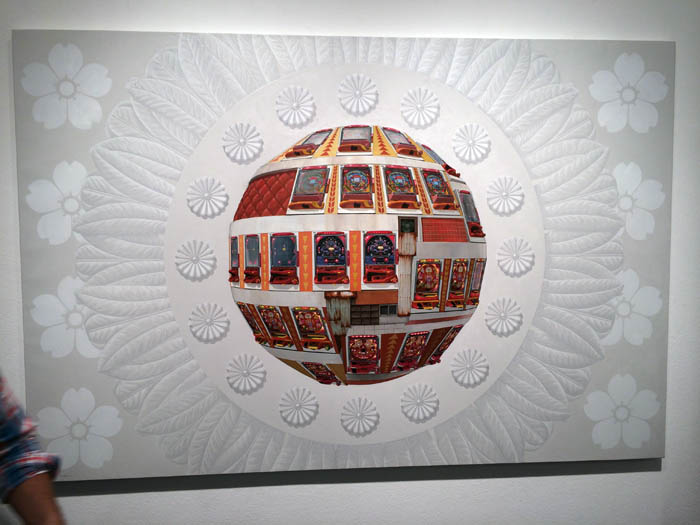 While in NYC this weekend, we were introduced to Japanese artist Masakatsu Sashie, as he was in town for his debut solo show at Jonathan LeVine Gallery, Coacervate. Showcasing a series of paintings that depict a world in the not so distant future, the show is based around the them of coacervate—from Latin "to assemble together or cluster"—is defined as a microscopic droplet of assorted organic lipid molecules held together by hydrophobic forces in a surrounding liquid."

Sashie's coacervates are often depicted as orb-shaped amalgams of manmade objects suspended over cityscapes. The works in this exhibition feature landscapes that resemble landfills—comprised of towering piles of glowing televisions, vending machines, vehicles and other industrially manufactured products. The juxtaposition of the detailed subjects and the vastness of their surroundings emphasizes a contrast in complexities between these concentrated small worlds and the expansiveness of the larger world around them. Through these combinations the artist intends to convey the ubiquitous commonality in how functions of microscopic systems extrapolate to the greater universe.

We recommend both checking out the show, on display through November 16, 2013, and keeping an eye out for Sashie's work moving forward... lots of good things in store for this young Japanese artist.

Check out our coverage of Tara McPherson's current show at LeVine, open at the same time.