Juxtapoz
Mario Martinez (MARS-1) "Toward a Distant Dawn"
Jun 07, 2014 - Jul 19, 2014Martha Otero, Los Angeles, CA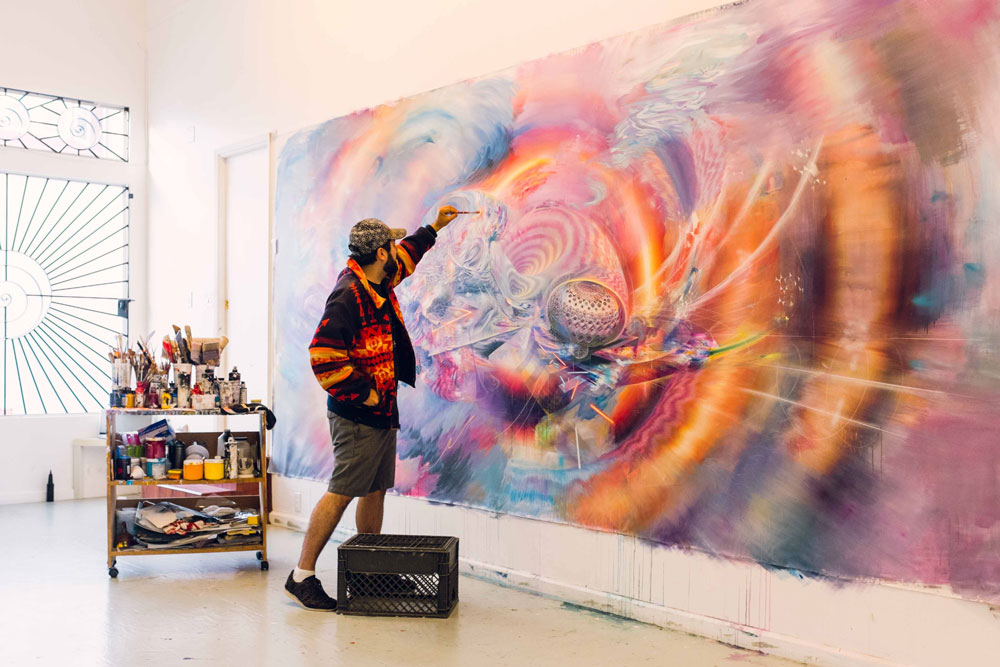 Towards A Distant Dawn is an exhibition of new paintings and sculptures by San Francisco-based artist Mario Martinez (aka Mars-1) opening at Martha Otero Gallery this Saturday, June 7th, 2014.
Mario Martinez's concepts are informed by cosmology, ufology, altered states of consciousness, his psyche and its relationship to space.
In Toward A Distant Dawn, diffracted patterns combined with orbital formations made of large gestural circular brush strokes create a sense of kinetic energy. A gradient expansion of color and light produce an after-glow (similar to those in gamma-rays). Layered details of geometric-organic firmaments, resembling space debris, amalgamate with an abstracted imaginative landscape. Cast bronze molecular sculptures of celestial spherical elements are fabricated using both additive manufacturing and the ancient technique of lost-wax. Unforeseen Possibilities shows the cognitive effects of black and white shapes visually designed to process optical illusory motion. The undulating black holes are reminiscent of the unfathomable scope of the cosmos.
In this highly mathematical work, infused with an intense fascination for natural biology and quantum mechanics, Martinez conveys an immersive visceral experience.
Mario Martinez (Mars-1) "Towards a Distant Dawn"
Martha Otero Gallery, Los Angeles
June 7th - July 19th, 2014
Opening reception: June 7 6:00 to 9:00pm
---
Studio photos by Alex Nicholson