Juxtapoz
"MAGIC, COLOR, FLAIR: the world of Mary Blair" @ Walt Disney Family Museum, SF
Mar 13, 2014 - Sep 07, 2014Walt Disney Family Museum, San Francisco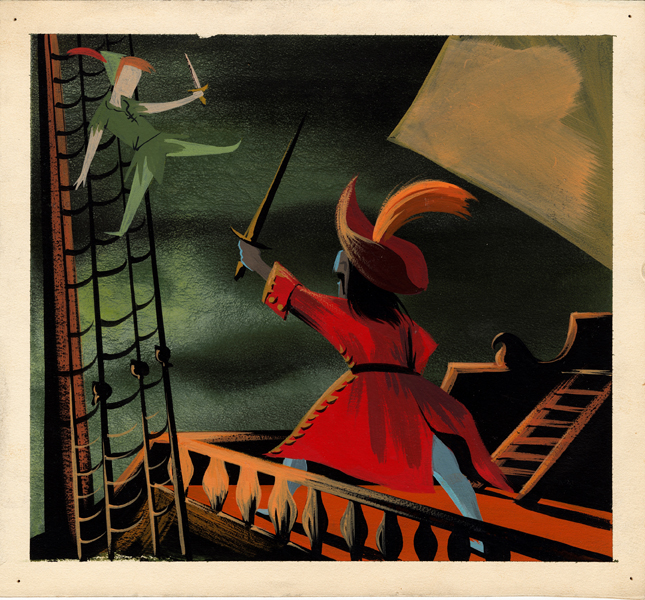 The Walt Disney Family Museum is pleased to present MAGIC, COLOR, FLAIR: the world of Mary Blair, a comprehensive exhibition exploring the artistic process and development of one of Walt Disney's most original, beloved, and influential designer and art directors, Mary Blair. From Cinderella, Peter Pan, Alice and Wonderland, and the development of the visual identity of Disneyland (it's a small world, especially), Blair is one of the most iconic artists from the classic Disney era. The exhibition opens March 13, and runs through September 7, 2014.

Some folks just have to make an annual Disney pilgrimage. Last May, we enjoyed a personal remembrance of Mary Blair from her nieces Jeanne and Maggie, and this year, art historian John Canemaker gave us a curatorial tour of a new exhibition of her work.

Gwynned Vitello: How did the museum come up with the idea of The Art and Flair of Mary Blair?
John Canemaker: The idea for the exhibition came from Diane Disney Miller, who contacted me to curate the show, as Mary was said to be one of Walt Disney's favorite studio artists. In the family home in Los Angeles, very few artworks from Disney films were displayed, but among those were paintings by Blair, from Alice in Wonderland and Saludos Amigos, and they are in the exhibition. For The Walt Disney Family Museum collection, Diane acquired a large number of Mary Blair conceptual artworks made for films such as Peter Pan and Cinderella, but for this show, she wanted to expand the scope to include Blair's pre- and post-Disney career. I contacted a number of private collectors to make the show as comprehensive as possible.


Coming from a small town in Oklahoma and raised in what was agricultural Morgan Hill, where did she acquire her modern sensibility?
She discovered a wide world of art history when she became a student at the Chouinard Art Institute in Los Angeles where a number of her teachers were familiar with modern art. Lawrence Murphy, for example, the master composition teacher, had been a personal friend of Albert Pinkham Ryder, and had met Matisse and Picasso at Gertrude Stein's apartment in Paris.
How did her work change after studying with David Alfaro Siqueiros?
In 1932, Mary's future husband, Lee Blair, along with other Chouinard students, assisted Siqueiros in the painting of his mural, Street Meeting, on the school's building on 8th Street near Westlake (now MacArthur) Park. Mary was not one of the assistants, but the stylization of the Mexican master's work had an impact. She was highly sensitive to designs in the popular culture, and that same year, won a national design contest sponsored by the Cannon Mills Company with an elegant graphic of an Art Deco horse and stars, which anticipates the stylization and unusual color of her later work.


How did Pruett Carter influence her?
Pruett Carter, Chouinard's Director of Illustration, was one of America's best magazine illustrators and became Mary's most influential mentor, both at Chouinard and afterward when she studied with him privately. He taught her to stage imagery as narrative, to evoke an emotional response in viewers, and so, inspired her first ambition to become an illustrator.
In the Chouinard school catalog, Carter wrote: " ...the illustrator may be likened to the director of a motion picture, or a stage play. He must know his characters—their emotions and desires—must set the stage, and direct the arrangement, and action and conflict of drama. He must live the part of each actor, must do the scenery, design the costumes, and handle the lighting effects. His illustration must be deeper than a poster—for he must make his characters live and breathe and react to each other—as the author intended… But, before he can do this, an illustrator must be thoroughly trained in drawing, composition, and design, so that he can devote his enthusiastic interest on directing the theatre of the illustration… an endless opportunity for the inventive and theatrical talents of the artist."
What was the mission of the Chouinard School of Art?
Nelbert Murphy Chouinard founded the prestigious Chouinard Art Institute in 1921 "to meet the necessity for an institution which should contribute basically to the development of our national art." Over the years, many graduates attained renown in both the fine and applied arts, including Ed Ruscha, Edith Head, Don Bachardy, Millard Sheets, Chuck Jones, Gyo Fujikawa, Bonnie Cashin, Robert Williams and numerous Disney alumnae. In 1961, under the guidance of Walt and Roy Disney, the school merged with the Los Angeles Conservatory of Music to become the California Institute of the Arts. Mrs. Chouinard hired instructors for "competence in technical and aesthetic knowledge," and also "spiritual leadership."


Can you give any details about the Disney artists' fabled trip to South America—places they visited, aspects of the countries that were particularly inspiring?
In August 1941, Mary and Lee became part of a select group of studio artists and writers who Walt Disney chose to travel with him on a trip sponsored by the US government. President Roosevelt's Good Neighbor policy was devised to encourage goodwill between the Americas, and halt the spread of Nazi and Fascist sentiment in Latin America, as well as foster new markets for both hemispheres. Walt and his "El Grupo," as they were nicknamed, were to research and gather pictorial and story material for entertainment and informational features in Brazil, Argentina, Peru, Ecuador, Guatemala, Chile, and Mexico.
During this trip, Mary's multiple artistic gifts coalesced into the vibrant and colorful style for which she is known. It was an unexpected creative detonation that greatly influenced future Disney films and theme park attractions, profoundly affecting her life and career. Mary Blair translated her feelings into amazingly vital and exciting pictures, a heightened stylization, both modernist and primitive at the same time. She also brought awareness of the potential for animation and cinematic staging within painted scenes, such as the busy marketplace at Chichicastanango, the floating gardens of Xochimilco, fishermen and boatmen navigating Lake Titicaca, musicians, basket-on-the-head flower sellers, llamas and oxen bearing burdens, as well as children and dancers in traditional costumes, who found their way into on-site paintings in glorious high-key color.
Do you know anything about Blair's experience in the male-dominated studio?
There was always a disconnection between what Mary Blair painted in her concepts and what appeared in the final film. The animators in particular found it difficult to reconcile her stylized designs with the "illusion of life" Disney house-style of believability that was expected. Because Walt was not able to explain how that might happen, it led to misunderstandings and frustration among the production crews. "All the men that were there, their design was based on perspective," master animator, Marc Davis said. "Mary did things on marvelous flat planes. Walt appreciated and wanted to see this, but not being an artist himself, though continually supportive, was never able to instruct the men on how to use this… It was tragic because she did things that were so marvelous and never got on the screen."


However, she didn't let that stop her from using her watercolor skills combined with that bolder, brighter graphic style to explore other arenas.
The watercolor skills gave her a grounding and a discipline in knowing how to use her art materials, sometimes combining a watercolor background with opaque gouache, maybe adding pastels, or using a black background. In some works like "Small World," which she designed from the conceptual art to the colors and characters, she explored collage.
This show has over 200 pieces, including work from her student days and solo gallery exhibits in the '30s, to original illustrations from her Golden Book period in the '50s, fashion designs and personal objects and drawings she gave to members of her family, as well as large scale murals of the 1960s and '70s. Moving to the historic town of Soquel, California, she went on to make what she called "semi-dimensional paintings."
MAGIC, COLOR, FLAIR: The world of Mary Blair opens March 13th, 2014 at the Walt Disney Family Museum in San Francisco and will run through September 7th.
For more information about Mary Blair and the exhibit, visit waltdisney.com/blair

This article was originally published in the April 2014 issue of Juxtapoz' print edition.