Love, Longing & Loss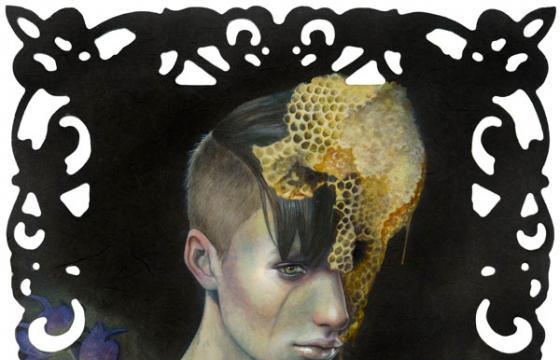 "Love, Longing & Loss" is an upcoming dual exhibition opening in New York City and Seattle that features new work from 13 of Seattle's most exciting emerging artists. Brought together by Seattle collective x17, this extraordinary collection examines themes of love and loss, its subjects ranging from ethereal figures and incendiary gypsies to broken hearted monsters.
"Romeo" by Redd Walitzki
Each artist was given a custom manufactured baroque woodpanel and the freedom to explore whichever direction their chosen theme would take them.
Opening in NYC on Sunday, April 22nd @ 8:00 PM at the NYU Steinhardt Black Box Theater, it will be a special night of musical performance, multimedia work, and the art exhibit itself, with opera singer Roxanna Christina Walitzki singing a program that explores the same themes of love, loss, and longing.
The show will be opening in Seattle on Friday, May 11th at Urbanlight Studios (part of the Greenwood Collective) from 6-10 PM, and will continue throught Thursday, June 7th.
Featured Artists:
Crystal Barbre, Seb Barnett, Syd Brown, Libby Bulloff, Katie Dalzell, Ego, Carl Faulkner, J.P. Farquar, Jeff Jacobson, Chloe Macho, Chris Sheridan, Joe Vollan, Redd Walitzki
With Video Art starring Roxanna Christina Walitzki, Directed by Adric Hicks & Redd Walitzki
"Mignon" by Carl Faulkner
"Willing Sacrifice" by Seb Barnett
"Mignon" by Redd Walitzki