Juxtapoz
Liu Bolin "Lost In Art" @ Eli Klein, NYC
March 20, 2012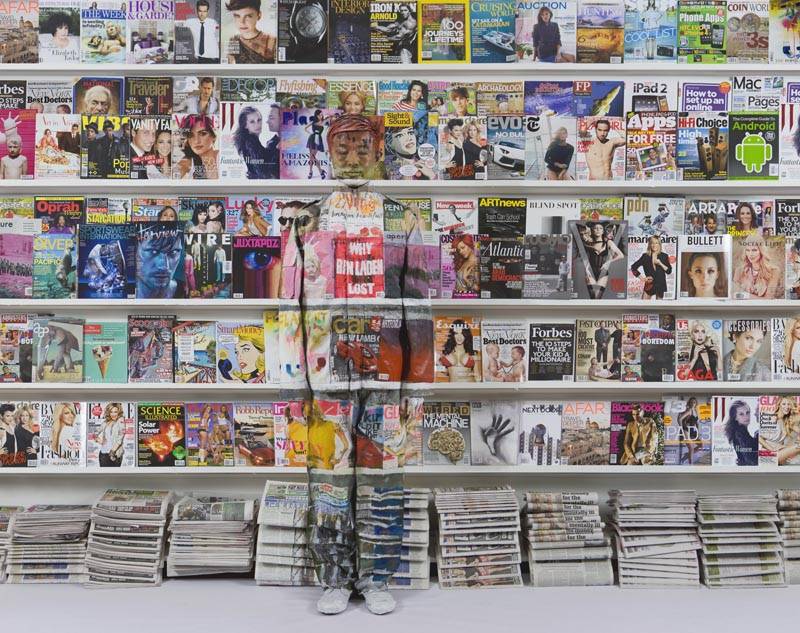 Tonight, March 20,
Eli Klein Fine Art
in New York City will open a new exhibition with the internationally renowned Invisible Man, Chinese photographer and "chameleon,"
Liu Bolin
. Lost In Art will present new photographs from both Bolin's
Hiding in the City
and
Hiding in New York
series, as well as his recent collaboration with Harper's Bazaar and fashion giants Gaultier, Lanvin, Missoni, and Valentino.
As Eli Klein points out, "The works show Liu Bolin painted into a range of culturally and historically significant locations, conveying social commentary through various different aesthetic compositions." So keep in mind, he doesn't just stand in front of the Wall Street bulll for the sake of it. Maybe the Panda Bears.
Lost In Art
will also feature a sculptural piece, "constructed a peony flower using only cellphone chargers that he himself crafted. In Chinese tradition, the peony represents prosperity, and its symbol represents a desire for the attainment of such prosperity. Similarly, in global contemporary culture, the cellphone serves as a technological and commercial manifestation of this desire. In this particular reincarnation, people constantly seek to buy the latest version of a product, to outdo others around them, to replace the quickly outdated with the new best thing. Through this piece, Liu Bolin provides commentary on the eternal human quest for affluence and success, the appearance may be ephemeral but the essential driving factors remain constant and unchanging."
Liu Bolin
Lost In Art
March 20—May 11, 2012
Eli Klein Fine Art
NY, NY