Juxtapoz
Laid Down & Wiped Away: Gregory Euclide's Whiteboard Project
July 12, 2012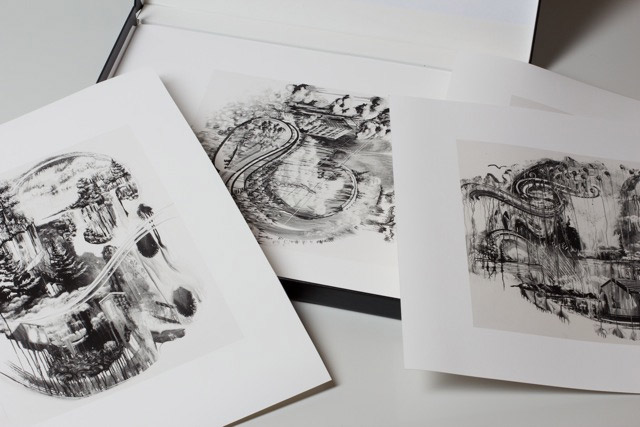 We have long been fans of
Gregory Euclide,
from his paintings, sculptures, installations, and cover artwork for
Bon Iver
. It is his newest project, and subsequent print series, that may be his most impressive. Along with his gallery,
David B Smith
, Euclide recently created a series temporary paintings made with Sumi ink on dry erase board, and now they are being released in a print series.
From David B Smith:
David B. Smith Gallery and artist Gregory Euclide are very pleased to announce the release of a limited edition portfolio and series of prints, which document temporary paintings Euclide made with Sumi ink on dry erase board.
Euclide teaches high school in Minnesota and during his twenty-five minute lunch periods began creating temporary paintings within that short allotted timeframe as a demonstration to his students and an aesthetic challenge.
In celebration of this exciting ongoing project, Laid Down & Wiped Away—a special edition of ten portfolios chronicling Euclide's experiments on his classroom whiteboard—will be available July 10, 2012. Each portfolio contains eight pigment prints measuring 16 x 20 inches, printed on archival Hahnemühle Photo Rag paper, mounted on museum board, and numbered and signed by the artist. White museum gloves and a certificate of authenticity are included with each portfolio, as well as an original Sumi ink painting by Gregory Euclide.


In addition to the collector portfolio, six of the eight images documenting the results of this creative experiment to date will be available for purchase individually.
"I was thinking about the fact," Euclide said, "that I could make something impermanent and then sell the image of it. In our culture, there is a strong emphasis on reproduction and the original seems less important. My students were shocked when I would erase the original, because they saw it firsthand, and they were disturbed that it was destroyed. People who do not see the original have no problem only looking at it on a screen or as a print, but once you see the original it is hard to let it go or believe that it could be destroyed." Euclide relates this concept to society's impact on the natural world by stating, "When people get to know nature and spend time in it, they start to realize how their actions affect it."
For additional information or to purchase the Laid Down & Wiped Away portfolio or individual images documenting this project, please visit our web store at davidbsmithgallery.com/store.
Laid Down & Wiped Away from Gregory Euclide on Vimeo.