Juxtapoz
Preview: Kenji Nakayama @ Woodward Gallery, NYC
May 04, 2012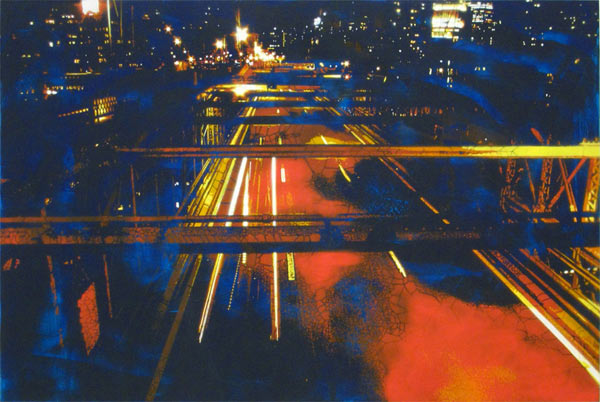 The Lower East Side's Woodward Gallery will open Kenji Nakayama's first New York solo exhibition by the Japanese Boston-based artist, simply titled "Kenji Nakayama." This widely anticipated exhibit of new works will be the most extensive showing of his art to date, featuring photorealistic, hand-cut stencil, spray enamel, acrylic, and mixed media paintings.
Nakayama's dedication and work ethic is unprecedented and very well respected. A mechanical engineer by formal education, Kenji Nakayama left his home in Hokkaido, Japan in 2004 driven to develop and master high levels of detail with an intense discipline in his art. "My process is like dust," he describes. "Each little grain and speck adds up, and soon becomes a mountain."
Bringing his cultural heritage to the United States, Nakayama incorporates Japanese and American influences within traditional sign painting techniques.
Kenji got involved with street art to document and respond to his surrounding environment, and as a method to capture significant moments in his daily life. His elaborate process involves crafting original, hand-cut, multi-layer stencils, which become one complete image when illuminated with colorful spray enamel—a deeply personal technique that serves as a diary from beginning to end. In the studio, each intricately cut stencil painting often takes months to complete combining hours of concentration with a spiritualistic and meditative-like disposition.
Soon after Kenji's arrival to the US, he met Woodward Gallery Director John Woodward, who challenged Kenji to paint the outdoor wall of Woodward's Project Space, followed by an invitation to exhibit another large-scale installation in the Soho location of Bank of America. People were in awe of Kenji's complex murals. Public support continues to embrace Kenji for his quiet determination and skilled contributions to contemporary art.
Join Kenji Nakayama and Woodward Gallery for the opening of the artist's self-titled exhibition Saturday, May 5, 2012, from 6 pm to 8 pm.