Juxtapoz
Kelly Tunstall & Ferris Plock "Loading" @ Fecal Face Dot Gallery, SF
Aug 16, 2013 - Aug 30, 2013Fecal Face Dot Gallery, San Francisco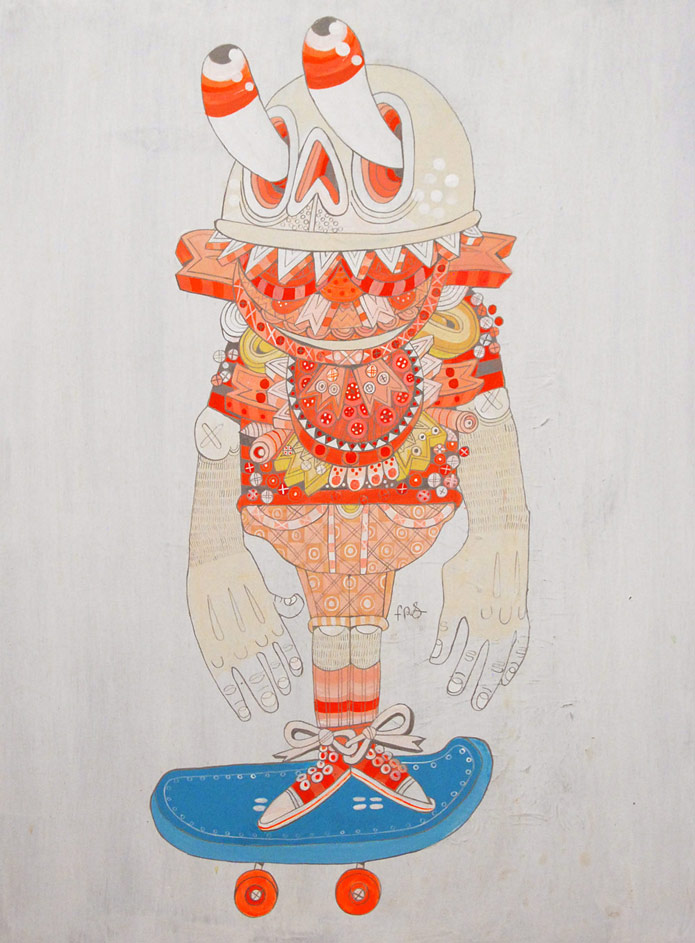 FFDG
is pleased to present San Francisco based painters, Juxtapoz friends, and husband and wife duo Ferris Plock and Kelly Tunstall in their second two person show with the gallery entitled "Loading" featuring new mixed media paintings inspired by the transfer of information as recontextualized through the artists unique and personal filter. An opening reception is scheduled for Friday, August 16th (7-10pm).
With minds fine-tuned to the perception of millisecond delays, seconds feel like infinities; a slow network is a robbery of our precious messages, instant pictures, the tenuous threads that connect us, that when severed, make us ever so nervous, scared, if not very very angry. These moments between are indeed a disquieting reality check. To be inaccessible or to be kept waiting is almost to die.
In this instant culture, we look at who is selling, who is buying, and what a search actually is: a reach of a skeleton, waiting to be fleshed in with missing lyrics, skin, muscles, bones. At the end of it all are our ever-hungry hands and eyes, starving for the result of a search sequence, the next delivery to add to our lives, the next bit of like for the status update of one of too many personae; we are always searching and forever loading.
"Loading" is Kelly Tunstall and Ferris Plock's wry take on the recent Bay Area tech explosion; a follow up to 2012's FFDG "Edible Complex" exhibition; a study of San Francisco's food culture.