Juxtapoz
Kelly Tunstall & Ferris Plock "Edible Complex" @ Fecal Face, SF
June 18, 2012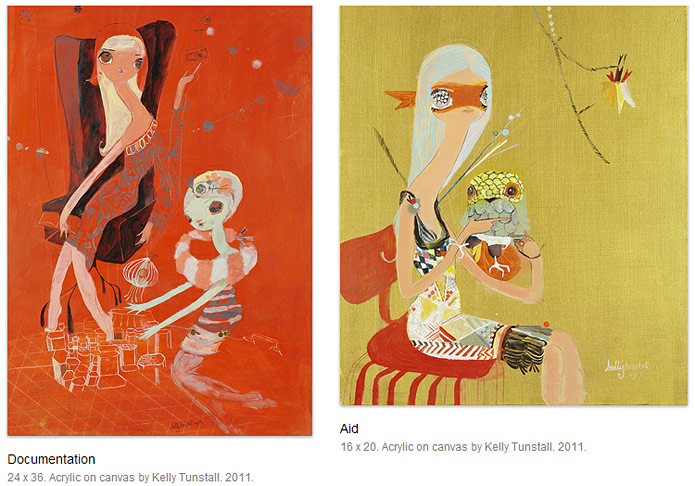 This Friday, June 22, San Francisco power art couple extraordinaire, Ferris Plock and Kelly Tunstall, open a new exhibition, Edible Complex, at Fecal Face Dot Gallery in SF. Edible Complex seeks to explore our personal and cultural relationship to food, and the effect of social networking on the ever-evolving ecosystem of admiring, eating and wasting food in the Bay Area.

"San Francisco is a renter's town, a town in constant migration. It is definitely a town of eat or be eaten in many ways where you have to be constantly hustling", says Plock. "This town is hard place to grow roots in.... Then throw food on wheels with all of these food vans and suddenly there it is again... the restaurant is on wheels... don't stop and enjoy yourself at a restaurant... get something to go... keep moving... spend your money and continue to circle..."
"There are people dying of starvation all over the planet and we're snapping pictures of our fancy breakfast burritos or our cappuccinos with hearts drawn arty in the foam. It makes me feel very uneasy". This show not only reflects that uneasiness but also celebrates food and our relationship with it. We are what we eat, and do we eat who we are?
The show will feature paintings created both individually and in collaboration with one another, exploring a range of themes, from San Francisco as a transient city, our flourishing food-truck industry, and our relationship with what we consume.
Edible Complex
Kelly Tunstall & Ferris Plock
June 22 - July 14, 2012
Opening: Fri, June 22nd, (7–10 pm)
Fecal Face Dot Gallery
San Francisco, California