Juxtapoz
Keiichi Tanaami "Death Bridge" @ AISHONANZUKA
May 08, 2014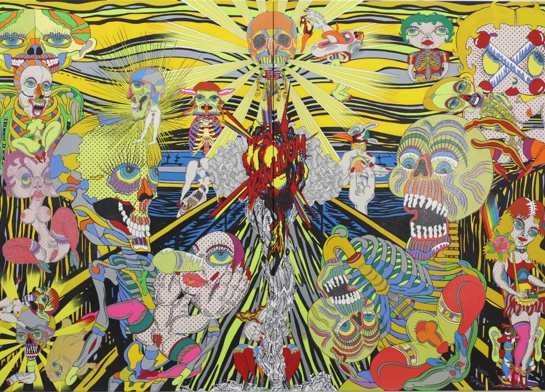 Keiichi Tanaami, who is featured in our Juxtapoz Psychedelic book, was born in Tokyo in 1936 and graduated from Musashino Art University. A one of a kind artist active since the 1960s as a graphic designer and illustrator, Tanaami is an artist who does not heed the boundaries of media and genre but instead traverses them. During the ´60s, Tanaami contributed works that played a significant role in the introduction of pop art and psychedelic culture into Japan, designing album jackets for the Japanese releases of legendary rock bands The Monkees´ Pisces, Aquarius, Capricorn & Jones Ltd (1967), Jefferson Airplane´s After Bathing at Baxter´s (1967), and he became the art director of a monthly magazine PLAYBOY in 1975, thus he has been producing significant works contributing pop art and psychedelic culture to Japan.
This exhibition will present two serial new paintings created in recent years.
The first series is the paintings based on the original drawings of his animation in '70s, themed as Marilyn Monroe, John & Yoko, and etc., that implicates his baptism by pop art in '60s, and the influence by the animators such as Osamu Tezuka and Walt Disney who he admires since his childhood. Especially, the repetitions of the images involved in this series associate with the timescales of the animations, reinforcing its' uniqueness.
The second series is the distinctive paintings represent his 70 year-long personal history, namely is his autobiographical mandala. These works contain, for example, many motifs drawn from Tanaami´s childhood experience of war. Glowing grotesque creatures are personifications of bombs and the light from their explosions. Beams of light stretching outward recall the searchlights of Japanese troops keeping watch for American bomber planes. Skeletal monsters that appear in his works represent both those injured in the war as well as our selves, unaware of the true horrors of war. Goldfish-like characters also often appear in Tanami´s work. This motif is deeply tied to a scene from Tanaami´s memory etched permanently in his mind -- the image of light from the bombs reflecting off the scales of his grandfather´s goldfish.
The opening reception with artists in attendance will take place on 15 May, 2014 from 17:00 – 20:00, during ART BASEL HONG KONG 2014 is open, as a joint reception with galleries located in Aberdeen in Hong Kong.
Keiichi Tanaami Death Bridge
AISHONANZUKA
May 15th - July 12th, 2014