Juxtapoz
Opening: Kehinde Wiley "An Economy of Grace" @ Sean Kelly Gallery, NYC
May 08, 2012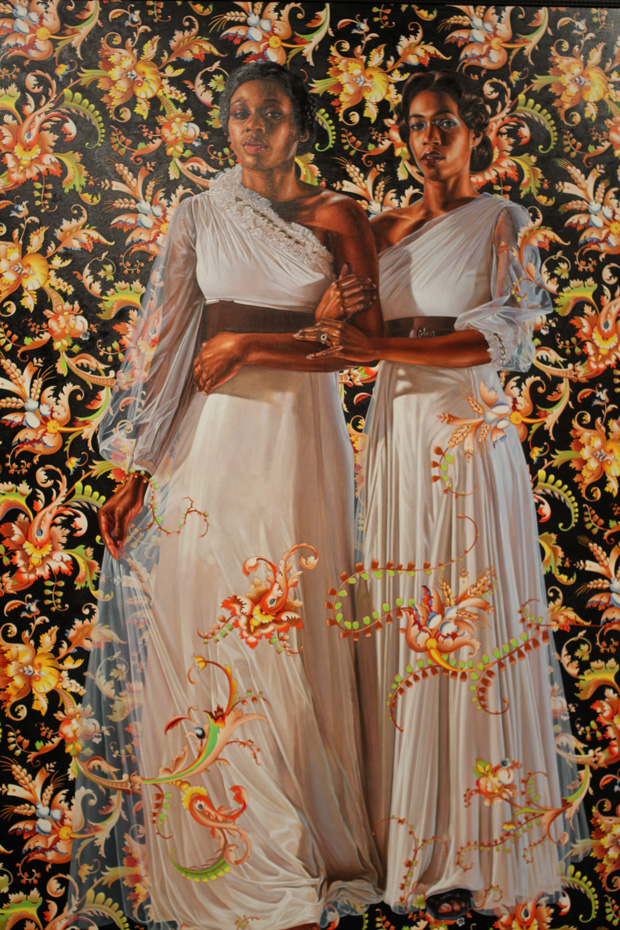 A busy weekend in NYC during the Frieze Art Fair celebration saw the opening of Kehinde Wiley's newest body of work, An Economy of Grace, at Sean Kelly Gallery. The exhibition marked a new departure from Wiley's previous work and subject matter by depicting African-American women, his first-ever series dedicated to female subjects. The January 2010 cover artist's work is always something to behold in person, where the colors, photoreal portrait style, and ornate wallpaper backdrops come to life. This was a standout exhibition from the weekend. And its up through June, so plenty of time. (images via complex)

From Sean Kelly:

The models for the paintings were cast on the streets of New York City. Their poses are based on historical portraits of society women by Jacques-Louis David, Thomas Gainsborough and John Singer Sargent, among others.
Instead of representing the models in their own clothes, as is the case with his portraits of men, Wiley has collaborated with Riccardo Tisci, Creative Director of the famed French couture house Givenchy, to design long dresses for the women. As creative collaborators, Wiley and Tisci spent numerous hours together walking through the galleries of the Louvre and discussing both the aesthetic and conceptual context for the project, specifically society's ideals of feminine beauty and the frequent marginalization of women of color. Following these conversations, Tisci designed six unique dresses for the models. The resulting paintings to be shown in An Economy of Grace are a celebration of black women, creating a rightful place for them within art history, which has to date been an almost exclusively white domain.
In Wiley's words, "The phrase 'an economy of grace' speaks directly to the ways in which we manufacture and value grace and honor, the people that we choose to bestow that honor upon, and the ways in which grace is at once an ideal that we strive for and something that is considered to be a natural human right. I am painting women in order to come to terms with the depictions of gender within the context of art history. One has to broaden the conversation...This series of works attempts to reconcile the presence of black female stereotypes that surrounds their presence and/or absence in art history, and the notions of beauty, spectacle, and the 'grand' in painting."
Kehinde Wiley
An Economy of Grace
Through June 16, 2012
Sean Kelly Gallery
New York, New York