Juxtapoz
Kasia Domanska "Endless Summer" @ Gallery 532 Thomas Jaeckel, NYC
June 28, 2012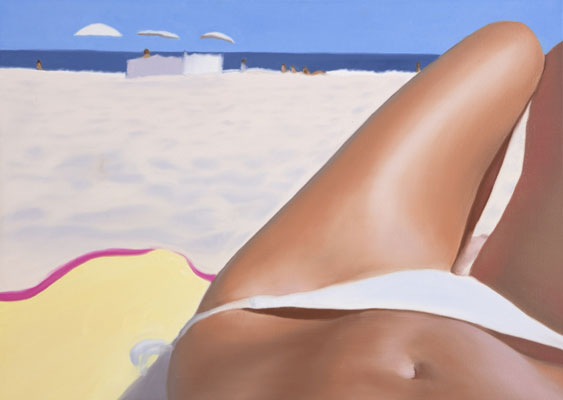 When we think of Warsaw, Poland, we don't always think of an endless summer, but Polish painter
Kasia Domanska
has created a powerfully bright series of oil on canvas works documenting a day at the beach that is currently on display at
532 Thomas Jaeckel
in NYC through July 3, 2012. Each painting captures a fleeting moment of youth and light, works that capture a sense of innocent voyeurism.
As the artist says of the
Endless Summer
work, "I look out on a summer's day, a beach where we can daydream freely, where we look at the sky and we notice more than we do in everyday life. Everything seems easy, light and pleasant. We contemplate."
From the gallery:
With fairy-tale like colors contrasting and blending into one another, the artist creates a work of purity and balance which does not give rise to worry or confusion, but peace and calm. The compositions give us moments of silence and stillness while transforming her pictures into living forms, pulsating with vital energy, life-giving, like a salty summer breeze, the sound of waves crushing on to the beach, a place where everything is go with the flow, forgetting schedules, rushing and stress, uniquely capturing reality at its most fleeting and temporary. The force and the power in her work is the light, it plays a decisive role in the theme as do the mood and balanced composition. It is brightness, joy, day and life, creating an idyllic climate.
via emptykingdom