Juxtapoz
Juxtapoz x Converse: Dennis McNett Profile
March 06, 2014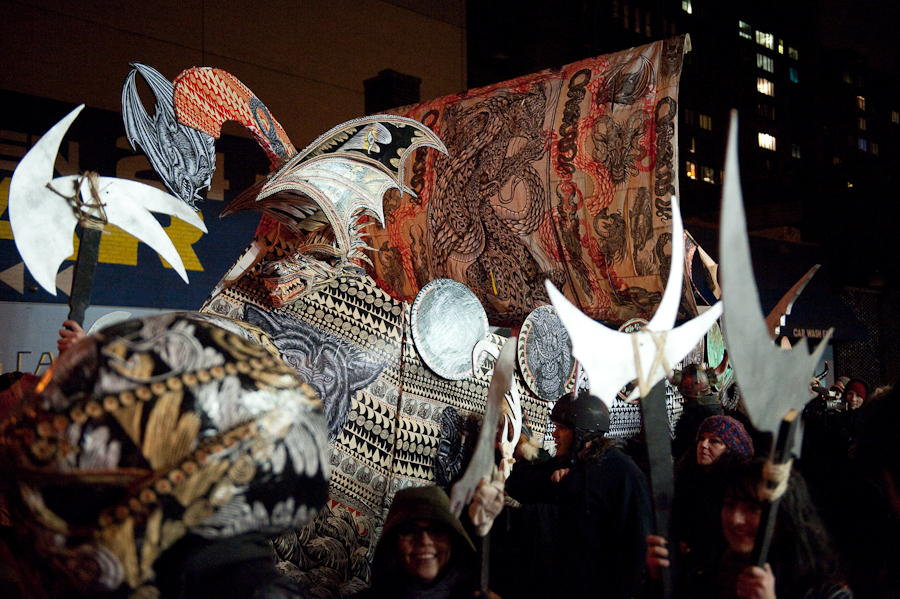 During 2014 SXSW, Juxtapoz and Converse have once again teamed up, bringing artists to Austin to create installations, performances, and interactive art to accompany the music, tech, and film experiences going on throughout the early weeks of March. One of the artist featured this year is Dennis McNett. Dennis is a prolific jack of all trades. You may know him as an artist who has worked within skateboarding for years, creating graphics for the likes of Anti Hero Skateboards and Vans' shoes. Maybe you know him from window displays at Barneys, NY, or shows at Known Gallery or in the Deitch Artparade. Maybe you just know the Wolfbat moniker. However you know him, just know that whether an art show, skatedeck, or a Viking Ship parade of madness, Dennis McNettis an artist's artist, creative in every field, and constantly exploring the limits of fine art. This interview by Joey Garfield appeared in the August 2010 issue of Juxtapoz.
Joey Garfield: Your work and overall attitude towards art rocks, as in heavy metal. Let's rock like Ozzy, Kiss, or even Gwar.
Dennis McNett: It's definitely influenced by Gwar, put them and the music aside, etc. They are a collective who have been together for 20 years making their own art, their own original narratives, music, album covers, costumes, and sets. They are never bored! You know what I mean? It's an artist's wet dream, man. I want some of that shit, fuck that.
Is that what made you come to New York?
I moved to NYC from Virginia Beach in 2001 three weeks before September 11 so when that hit I was like, holy fuck, what have I done? I hadn't even seen NY, had never even visited. I packed up the car and moved up. I thought it was like Virginia, have some cash in my pocket and go get an apartment. It was a rude awakening. And I wound up in New Jersey. The neighborhood I happened to move into was one block from the mosque where that blind cleric, who did the first attempt to blow up the towers, was from. So that morning when there was FBI all over my neighborhood, I was like, where the fuck have I moved to?
Which do you prefer, drawing or printmaking?
Well, woodcut is drawing but with a chisel. I tried drawing and painting, but when I was introduced to woodcut and linoleum I was like, this is it.
What was so appealing?
It's high graphic. As a kid I enjoyed punk rock show posters and album covers, old Courtland Johnson stuff. Who doesn't remember his Ripper skull image? These [pointing to two 5-foot snow leopard woodcuts] have energy because it took energy to make them. You need to carve these lines out. You can see energy in the mark. You can't get this mark any other way. You can't draw it because it won't translate.
This is a no joke snow leopard.
I like mythology and I like narrative work, and the snow leopard is this almost mythical creature I am obsessed with. They are up in the Himalayas and have rarely been filmed before the Planet Earth series. They shot footage of the mother leopard looking down from this cliff that's like more than a 90-degree angle watching these goats. She leaps off the fucking cliff, dude, and doesn't, like, tip-toe down, she flies down like water, grabs that goat, kills it, and drags it back up to its den! I was like, fuck! After that I got tattoos of one, I did all these images of them. I teach relief printmaking and when these kids come up to me, and say, "I don't know what I want to do," and all that, I say, "You've got to find your snow leopard. Find what it is that psyches you out and do the shit out of it."
What draws you to narrative stuff?
Traditionally, storytelling and mythology is a way to explain something or teach a lesson. That's all stories ever do.
Find each artist's work: