Juxtapoz
Juxtapoz x Converse: David Ellis Profile
March 06, 2014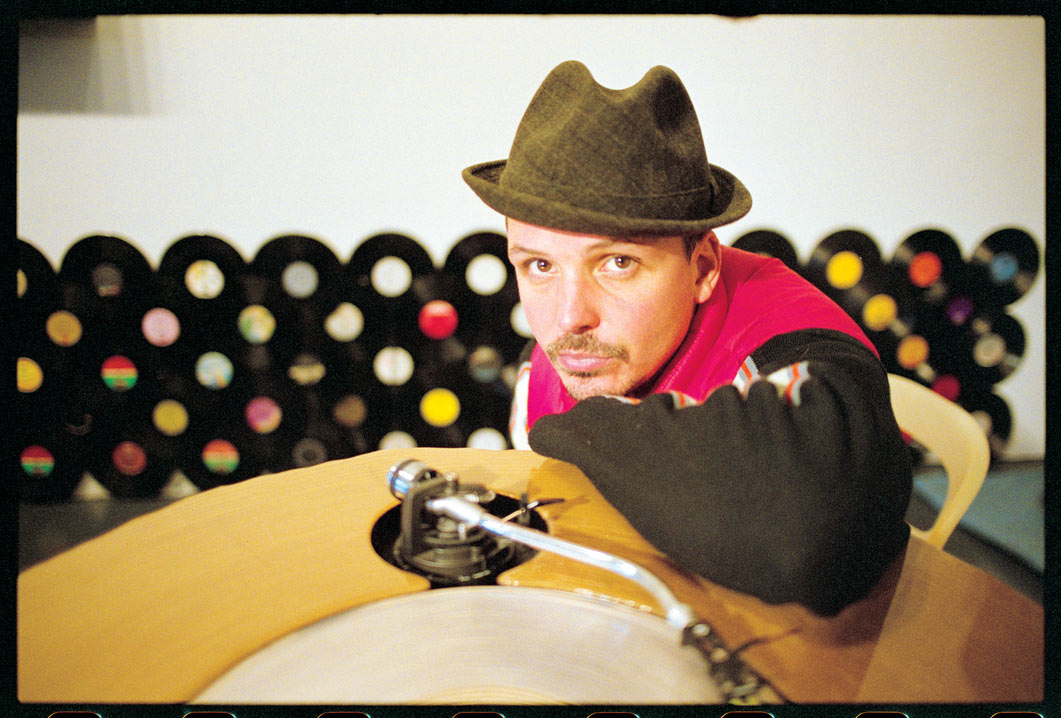 David Ellis paints music. This may seem like the hardest thing in the world to render, but Ellis's career has been finding ways to turn fine art into sound, whether in his elegant ink drawings on tobacco-stained paper, sculptures that make music from everyday objects, or gallery sized installation pieces. A founder of the influential Barnstormer Collective, the Woodstock, NY based artist has shown works with Museum of Contemporary Art, San Diego, PS1, and MOMA.

This interview first appeared as a cover story in Juxtapoz Magazine in March 2007.

Joey Garfield: What were some of your first jobs?
David Ellis: Like when I was 12?

Yeah.
I had two jobs. One was working in the tobacco fields, the other at a car wash. This was in Cameron, North Carolina, where I grew up. This farmer had several tobacco fields, and he'd drive up in his white pickup and load me and a couple boys in the truck. It was still dark outside, like five in the morning. We'd start picking tobacco and go until noon. After that it was too hot, and some of the rows were so long you couldn't see the end of it. My snack would be at the far end of the row; I would always have these Nabisco peanut butter and cracker things called Nabs, and a Pepsi. Man,that was the best. I also worked at this carwash, owned by a guy in my dad's church. I'd clean out the bays and do maintenance. I was really into hip-hop at that time, and it would be blasting at the wash. I would always be writing down rhymes.

Your dad's church?
Both my dad and my grandfather are preachers.

Does that influence your work?
I'm not an institutionalized Christian, but when you have a grandfather who saw Martin Luther King speak and participated in the Civil Rights Movement, and a father who organized people, too, you get a both-sides-of-the-track mentality. I like African-American gospel music because it was a vehicle for change, and it's art. It moved mountains in our parents' lifetime. It's a powerful thing, and I'm aware of that. I felt the mountains continued to be moved when Grandmaster Flash put "The Message" on wax, and it got played on the radio. Mountains get moved all the time, but you have to move with them.

You really focus on incorporating music in your work.
With the motion painting I suddenly broke through. I had been trying to paint music my whole life. I would hang out at jazz clubs. Wynton Marsalis took me under his wing and got me into The Vanguard. I would draw the cats on stage, and they'd be moving. They were not posing like models! I was really into Romear Beardon, another North Carolina guy. Monk was from North Carolina, too. I felt proud to be from there. Overall what I learned was that a drawing or painting or collage doesn't translate the idea of music. It translates people who play music.

That's a good point.
Even the speakers I paint weren't about the music. It's just the device. I realized through the motion paintings that we're traveling through time and color rhythmically. It's not permanent. It's like playing music. It gets painted over again so it only existed for the time we were making the piece; however, if it's a recording, it's a recording of digital stills in a sequence. Time lapse. I was making my shit and sharing with the people I love. I don't know how many motion paintings we've done. We did commercial work with it. For example, we did the "Number Nine" for Sesame Street with nine Barnstormers.

My Uncle Bruce is a musician and a piano tuner. He had a piano in his apartment that was playing by itself. I must have been three or four, and it just flipped my whole world upside down. That as a visual experience was the baddest thing that ever was. It was so strong, like magic. I knew it could be done. I did a ton of research and put together the pieces that normally would go in an orchestration, and had it banging on paintings—bass drums, toms, and high hats. The first one was working off of a paper scroll like on a player piano. I literally cut every hole out with a knife, while using a computer beat-making program. I took a photo of the screen and transcribed it.
And that worked.


Find each artist's work: