Juxtapoz
Juxtapoz Psychedelic Book Release & Exhibition @ The Well, LA
April 28, 2014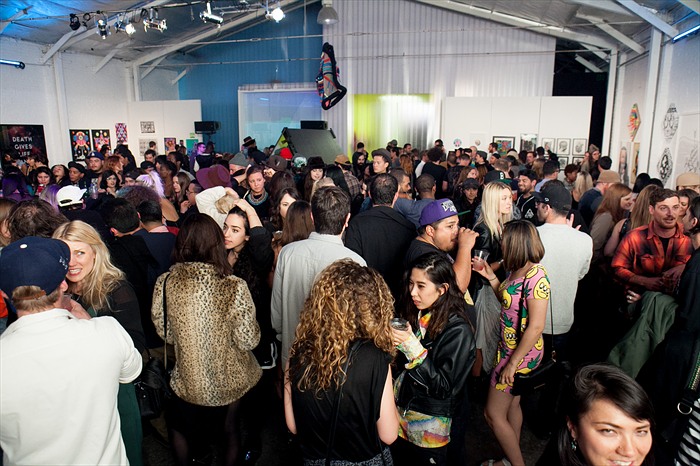 Saturday we hosted a special release party and exhibition for our Juxtapoz Psychedelic book at The Well in Los Angeles. WIth special guest appearances by masters of the psychedelic genre, on-site painting from Alex and Allyson Grey and sounds from Saint, SteezusChrist and Demonbabies, as well as work by Andy Gilmore, Steven Harrington, Oliver Hibert, David D'Andrea, Eric Beltz, Scott Balmer, Deanne Cheuk, Mark Whalen, Eric Shaw, Ryan Travis Christian, Pearl C Hsiung, Karina Eibatova, Maya Hayuk, Skinner, Jetter Green, Katherine Tromans, Kylea Borges, Phil Guy, Elena Stonaker, Demonbabies, Donny Miller, AstralEyes, Madsteez, Ryan Shaffer, Pale Horse, Ryan De La Hoz, Sean Newport, Leo Eguiarte, Johnny Vampotna and Thomas McMahan. Curated by Hannah Stouffer.
Juxtapoz Psychedelic serves as both a story of our magazine's origins and current state, with Psychedelic Art once again emerging as a fascinating and endlessly experimental genre. From classic names such as Alex Grey and Keiichi Tanaami to a new generation of universe expanders in Killian Eng and cover artist Andy Gillmore, Juxtapoz Psychedelic is one for the visionaries.
Purchase a copy of Juxtapoz Psychedelic here.
If you missed the party, the exhibit will be on display through May 13th.
The Well
1006 S. Olive St.
Los Angeles, CA

All photography by Sam Graham.