Juxtapoz
Jonathan Yeo "(I´VE GOT YOU) UNDER MY SKIN" @ Circleculture, Berlin
November 09, 2012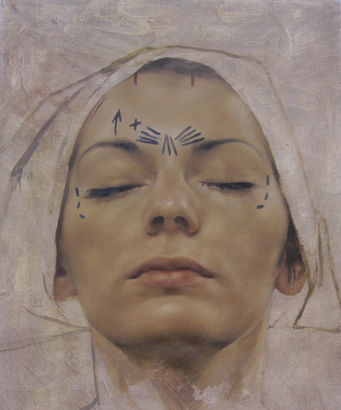 British portrait artist
Jonathan Yeo
, who gained international recognition by creating portraits of George W Bush and others made from thousands of images of porn, opens a new exhibition, 
(I've Got You) Under My Skin
, at
Circleculture Gallery
in Berlin tonight, November 9. The portrait work focuses on the topic of cosmetic surgery. The show also
gained attention in the UK
because famed actress, Sienna Miller, posed for Yeo nude and pregnant. That will generally get people's attention. The piece is below.
John Quin wrote a nice essay on the topic of the show, an excerpt of which we have here:
Jonathan Yeo (b1970) is well aware of the risks that face the portrait painter in the early 21st century. Getting it right in an era of mass surveillance and endless real-time celebrity exposure has paradoxically never been more a challenge. Media intrusion means that, for the famous, the personal guards are well and truly up. How then to break these down slowly with paint, to capture some idea of the essential self? Already well known for his iconic takes on Tony Blair, Dennis Hopper and Nicole Kidman Yeo now turns attention to surgery and in particular that associated with cosmetic operations. Beauty and the endless search for perfection then – the incredible price that some will pay to achieve it.
Each era has its own artistic challenges – for Tonks and Otto Dix capturing the surgical results of the First World War was a moral imperative, an essential truth. For Yeo the augmentations and reductions carried out now by plastic surgeons speak of today's inescapable truths. We want to look like that…we want our idea of perfection. And in this respect some cosmetic surgeons are sculptors, artists, second cousins removed to, say, Orlan and her experiments. Some surgeons even recognize the work of a colleague, the aesthetic taste of a peer, in the styling of a face-lift. Yeo's paintings document this relatively recent craze for a surgically created idea of perfection, a phenomenon not so far away from the eroticism of violence prophesized by J.G. Ballard in his books like The Atrocity Exhibition (1969) and Crash (1973). Yeo's paintings ask us this - by striving for a fixed ideal of beauty are we not in danger of developing a uniformity of appearance? And by extension by reducing or eliminating difference and oddity in looks might we, ultimately, degrade our capacity for surprise, for finding real beauty in the flaw? Maybe Todd Rundgren was right when he sang that love between the ugly is the most beautiful love of all…
JONATHAN YEO
(I´VE GOT YOU) UNDER MY SKIN
NOVEMBER 09, 2012 UNTIL JANUARY 12, 2013
Circleculture Gallery
Berlin, Germany