Juxtapoz
Jonathan Gabb's 3D Paintings @ Wilson Williams, London
January 10, 2013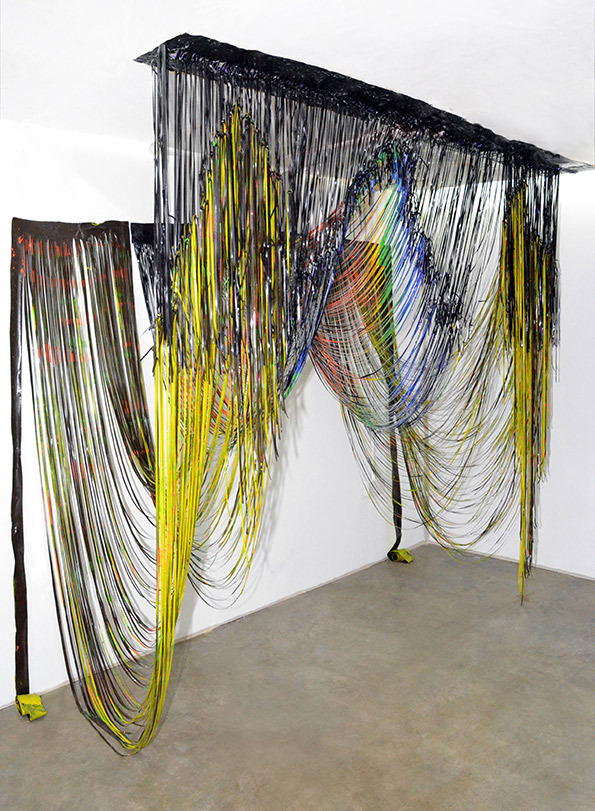 "With a painting, people expect paint on a canvas or pigment in liquid on a flat surface, I'm trying to do something different. I want to stretch the material value of paint in a 3D form to transform it into something else - the paint is freed from a fixed surface and can be viewed as an object."
After a 3 month residency in the studio at the Gallery, WW is pleased to present SYSTEM, a solo show of new works by Jonathan Gabb.
Gabb's three-dimensional paintings combine acrylics with PVA glues to make unique forms which allude to drips and sweeping paint strokes but confound traditional expectations and techniques. Created in the gallery, these new works respond to the natural light of the space as well as the architectural structures of the former jewellery workshops.
With influences as diverse as Baroque and Rococco architectural adornments, Wayne Thiebaud's Refrigerator Pies where paint comes to resemble frosting on a cake, and Damien Hirst's abstract yet arbitrary spot paintings, Gabb's work reminds us of the transformative powers of pure materials. Through the manipulation of paint, these installations invite the viewer to question and engage with the colours and forms presented.
"I enjoy the optical element of the work; viewing the work becomes more of an event. The viewer can move around the work; from a side angle it might resemble a pen and ink drawing, then it merges into denser three dimensional forms at another point."
Jonathan Gabb's residency with WW Gallery was a result of winning the WW SOLO Award 2012. From over 300 entries, 37 artists were longlisted for an exhibition at the gallery in August. A panel of judges including Sheila McGregor (Chief Executive, Axis, the online resource for contemporary art), Helen Sumpter (Art writer and Deputy Visual Art Editor of Time Out London ), Kate Davis (Artist & Tutor in Sculpture at the Royal College of Art) and Deb Covell (Artist & Co-founder Platform-A Gallery, Middlesbrough), shortlisted six artists, from which Gabb was selected as the winner of the £1000 prize money, three month residency and solo exhibition.

Text from WW Gallery. Gabb's work will be on display through February 2, 2013.
via itsnicethat