Juxtapoz
Jonas Wood: New Works @ Anton Kern Gallery, NYC
Sep 12, 2013 - Oct 19, 2013Anton Kern Gallery, New York City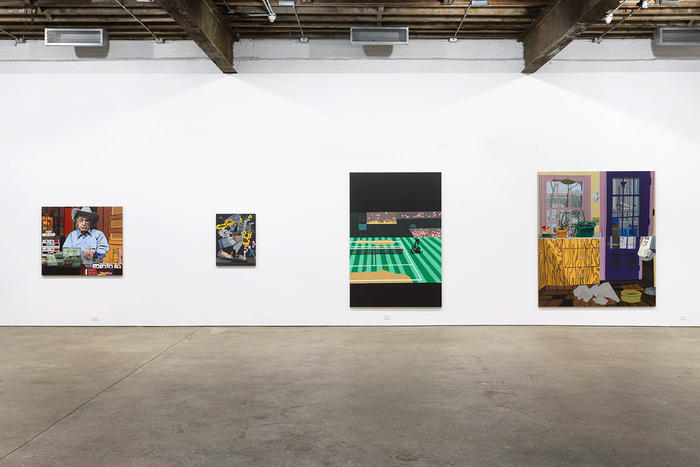 I confess, I'm a huge fan of Jonas Wood's paintings. I was first attracted to his life-sized reporductions of obscure baseball cards, but became even more fascinated by his unique and original take on still-lifes, portraits, and paintings of what appears to be average suburban living rooms. Simply put, Wood does the everyday in a very beautiful way. This month, Wood opened his fourth solo show at Anton Kern Gallery in NYC, featuring portraits of friends, tennis, news rooms, pets, and rooms.
From the gallery:
Working almost exclusively from sketches of photographs and life studies, or collaged mock-ups of the two, Wood's process intentionally moves through several mediums, each of which subtly alters its previous form before committing the composition to canvas. For several of these paintings, Wood created etchings, produced by Jacob Samuel Editions, of his preparatory drawings, adding yet another level of translation to his already semiotic-skewing approach.
Wood's paintings celebrate a mastery of incongruity and the re-organization of representation and memory. Wood not only puts our visual world out of its order, he rearranges the temporal and psychological landscapes in such a way that the paintings themselves conjure a logic and spatial continuity of their own.