Juxtapoz
John Dolan "John and George" @ Howard Griffin Gallery, London
Jul 17, 2014 - Aug 17, 2014Howard Griffin Gallery, London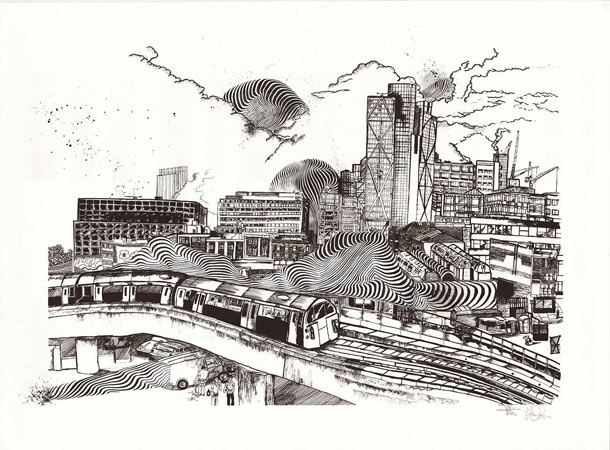 John Dolan spent 20 years living rough on the streets of London, amassed over 300 criminal convictions and was in London prisons for 12 years. He was stuck in what he refers to as a revolving door of prison and homelessness with no real hope in sight. This all started to change around five years ago when John was given George the Dog by a homeless couple who had exchanged George for the price of a strong can of lager. In caring for George Dolan had a reason not to go to go back to prison as it would have meant he would have had to give up the dog. As a result Dolan stopped dodging the law and started to change his life.
Dolan and George the Dog started to sit on the High Street in Shoreditch and here Dolan picked up a pen and discovered his artistic talent. Dolan documented the architecture of Shoreditch, elevating the old, decrepit buildings that were so often ignored and under-appreciated. While living rough in Shoreditch John and George became local legends and well known to the whole community there. Dolan would start to sell his drawings for £10 or £20 and that was how he and George survived on the streets. The level of refinement and attention to detail within these architectural studies were highly incongruous to Dolan's situation of living homeless on the street. A unique part of Dolan's work at this time was that he would also draw the street art and graffiti that was present on the buildings.
Howard Griffin Gallery met Dolan on the street, recognised his talent and began to work on an idea together. The idea was for Dolan to draw the entire Skyline of Shoreditch, his first ever big drawing, and then to invite street artists from all over the world to work directly onto the walls and buildings of Dolan's drawn cityscapes. Prints were posted out all around the world and this culminated in a blockbuster project which saw Dolan collaborate with some of the worlds most recognisable street artists including ROA, Steve ESPO Powers, Thierry Noir and Broken Fingaz Crew and over 50 unique pieces created.
The collaboration collection has now grown to over 50 pieces and is very unique in the sense that another artist has created an environment for all of these other artists to work in. It is also a special project as it has real heart and a social purpose which saw the international superstars of the street art and graffiti movement (the world's biggest emerging art form) collaborating with a compete down and out who at the time was on the streets and simply drawing for his survival. —Text by Richard Howard-Griffin
20 new works from this series will be be displayed as part of the John and George exhibition which opens at Howard Griffin Gallery on the 17th of July.
The show will run through August 17, 2014.



(John Dolan with ROA)