Juxtapoz
Jason Edmiston @ The Mondo Gallery w/ Alamo Drafthouse Cinema, Austin
Aug 23, 2013 - Sep 14, 2013Mondo Gallery, Austin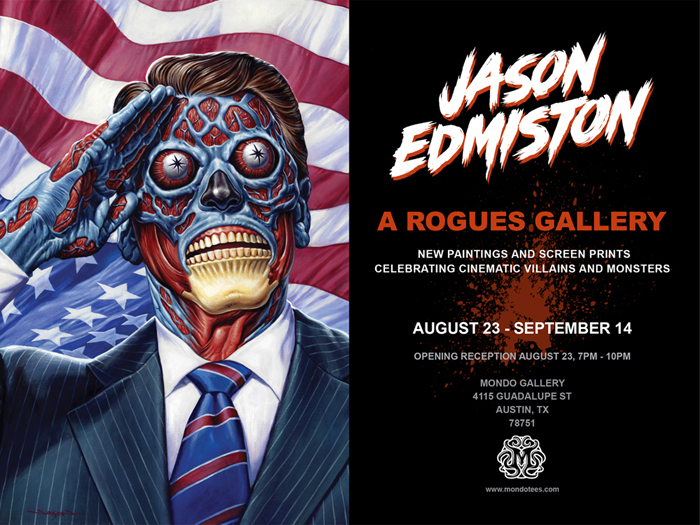 Mondo, the collectible art division of Alamo Drafthouse Cinema, will celebrate cinematic villains and monsters for its next gallery show, which runs from August 23 through September 14, featuring both prints and original works of art from popular Mondo artist, Jason Edmiston. The show will feature stunning new work that celebrates all-things evil from films like Ghostbusters, Robocop, They Live, The Terminator and many more.
The gallery opening on August 23 will be from 7:00 – 10:00pm with regular hours to follow for the show's duration. The Mondo Gallery is located at 4115 Guadalupe St. in Austin, TX.
"I am proud to announce that Mondo Gallery is hosting my first ever solo art exhibition. Mondo has built a name for itself on popular culture, and movie related art, and employs some of the finest art directors I have ever worked with. They have always allowed me to express my true creative self, with constructive, and inspiring guidance to expand my artistic voice," said artist Jason Edmiston.
"We couldn't be bigger fans of Jason's at Mondo. Personally, I have several of his originals and think he is one of the most talented and exciting artists working today. I can't imagine what it's going to be like opening night to be surrounded by such a visual overload," said Mondo's CEO/Creative Director Justin Ishmael.
Mondo will also be releasing a special poster featuring ED-209 from Robocop that will be utilized by NECA as the basis for their toy packaging of the highly anticipated ED-209 deluxe boxed figure, on shelves this October.
Jason Edmiston has been a commercial artist since 1996, and has created work for advertising, editorial, packaging and book publishing clients internationally. He is a traditional artist, painting in acrylic on watercolour paper or wood panel. His style ranges from realism to exaggeration, usually emphasizing the figure, and often with a certain degree of humour or caricature. Jason is known to emulate a specific style of illustration, such as classic posters, pulp covers and retro style advertising. His fondness for pop culture, especially movies and toys often creeps into his work. In the last 5 years, Jason has carved a name for himself in the collectible art world, namely limited edition screen prints and gallery paintings, based on pop culture and films.
About Mondo
Mondo is an art gallery and online store devoted to a passionate love of film, art and music. The company has received global recognition for bringing art back to movie poster design and has emerged as one of the leading curators of classic and contemporary film soundtracks on vinyl. Utilizing the talents of world class artists and designers, Mondo produces limited edition, screen printed posters based on film, television and comic properties, working with companies like DC Comic, HBO, Marvel, Paramount Pictures, Universal Studios and Walk Disney Studios as well as filmmakers including Paul Thomas Anderson, Guillermo Del Toro, Zack Snyder, Quentin Tarantino and Edgar Wright. Based in Austin, TX, Mondo operates out of a permanent gallery space that hosts regular exhibitions featuring a blend of breathtaking original artwork and limited edition screen prints. Mondo is also recognized by the Academy of Motion Picture Arts & Sciences with a full archive of film posters as part of their research library. The parent company of Mondo is Alamo Drafthouse.