Juxtapoz
"Janky Donuts" @ Lot F Gallery, Boston
Jul 11, 2014 - Aug 28, 2014Lot F Gallery, Boston, MA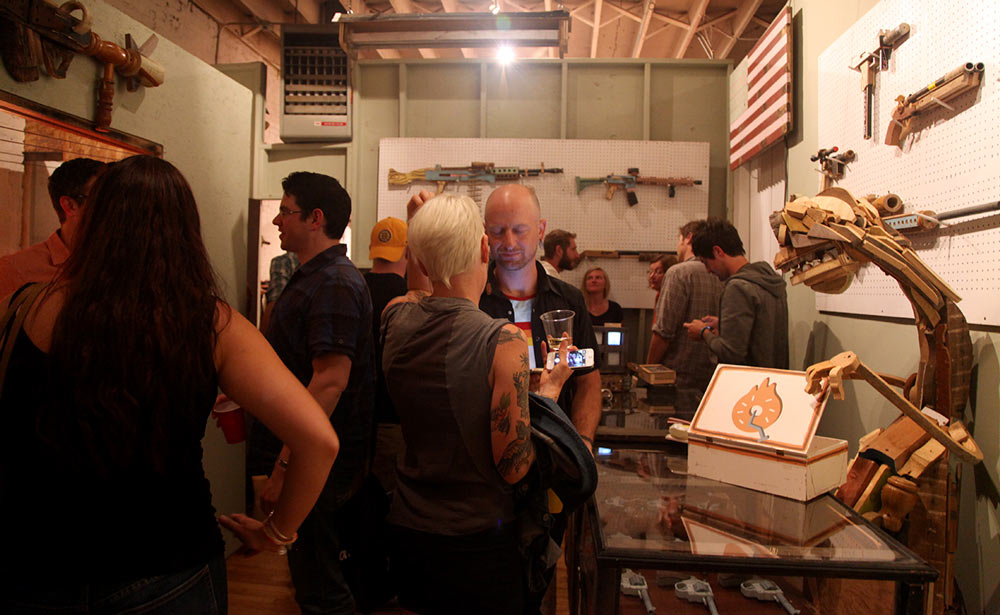 When people came to see the "Janky Donuts" exhibit at Lot F Gallery, many thought they were going to visit a new donut shop in town. This may have had to do with a few false food section articles that circulated around, or the professionally designed logo and website. In actuality, "Janky Donuts" is an art exhibit, a pop up donut shop installation of sorts, put together by the !nd!v!duals collective. Instead of soft sugary dough, the Janky Donuts are made of silkscreened painted wood, with a selection of 10 different flavors to choose from on the menu. Everything in the exhibit that makes up the installation is a sculpture in itself. The wifi cameras inside of the two chunky, wooden surveillance sculptures loom over the shop, keeping watch over the back room door.
Upon entering the door with an "employees only" sign hanging on it, visitors discover the force behind the shop's success - an underground gun shop. Yes, the donut shop is a front for the weapons business. Spreads of guns line the peg-board walls, and a BB shooting range, complete with customized working rifles, sits in the corner. Visitors are welcome to purchase a branded target print and practice their aim. All of the weapons are made out of carefully chosen pieces of repurposed wood and the Janky 45, AR1, and Oozy, among others all have moving parts for full-effect. Back in the donut shop, a three-foot-tall, pot-bellied, lizard-like character stands behind the counter, ringing up a sale with the wooded cash register, and packing donuts in a box. These boxes are signed and numbered, where six donuts of your choice sit on top of a false bottom with a revolver sitting underneath. While this exibit is a new idea for the artists, it is representative of their signature layered wood aesthetic and tongue in cheek humor.
The !nd!v!duals collective consists of five artists who work and live in Boston MA, Philadelphia PA, and Nashville TN. Each has different skills, specialties and interests but are able to seamlessly work together towards one unified vision. Their cartoon-like sculptures and props are primarily created with unwanted woods and reclaimed materials. The !nd!v!duals are known for their transformative art installations similar to "Janky Donuts", but never of this scale and intensity in the past.
The shops are up through the end of August, and open on Wednesdays and Saturdays from noon to 4, as well as by appointment. In the coming month, the gallery is hosting a BB shooting competition on Sunday, August 10th as well as a culinary event on August 19th. Lot F Gallery is a pillar in the Boston arts scene and works to showcase promising rising contemporary artists. Founded in 2009, the gallery has had over 50 exhibitions and hosts a new shows every other month.

Janky Donuts
by THE !ND!V!DUALS
'Handmade Donuts for Your Mouth'
Lot F Gallery
145 Pearl St. #4
Boston, MA
Show Runs July 11th - August 28th, 2014