Juxtapoz
#iSnapSF @ The Haus of Hipstamatic
February 28, 2012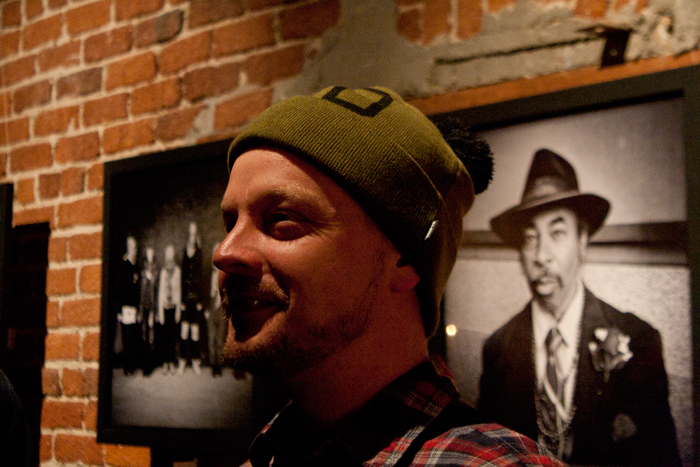 On Thursday, February 23, the dark and cozy, lacquered space that is
Haus of Hipstamatic
hosted the #iSnapSF show featuring street photography by Travis Jensen, Brad Evans, and Kate Seward. Feeling part home, part cavernous museum, and part sleek office, Hipstamatic's headquarters put its good fortune to good work with the event. As Travis Jensen explained, all proceeds from the show beyond printing costs were contributed to Larkin Street Youth Services, a non-profit center in San Francisco's Tenderloin that provides support services for at-risk and homeless youth.
Nowadays, Jensen is a husband and father with a job in addition to his photo work, steadily generating an abundant record of the city he loves so much. However, he noted that when he first arrived in San Francisco years ago from the Midwest, Jensen could have definitely used the resources that Larkin Street Youth Services makes available. Jensen was a skateboarder hungry to jump into the influential E.M.B. and Pier 7 scenes that defined San Francisco as a skate mecca in the 1990s. He showed up in the City very young and lived hard in the Tenderloin. It appears then that Jensen's coming of age in the neighborhood makes his photos more personal and informed. Always photogenic because it's so gritty and weird, the Tenderloin is a magnet for photographers looking to cover the dark and surreal. But Jensen's work doesn't present his subjects in a simple, exploitative way: "I'm on drugs and I'm crazy."
No, Jensen knows the people he photographs, shows real, special moments, and speaks to the personalities of Tenderloin residents in his work. In the new book Jensen and Evans premiered at the event, #iSnapSF Field Journal, they somehow manage to catch the thrilling, transcendent action that we often glimpse but don't have time to grab the camera and document.
To see more of the field journal, visit 
http://www.magcloud.com
.  Likewise, to view more of Evans' and Seward's shots of city life, check out
www.citysnaps.net
and
thestyley.com
.
words and photos by Cameron Cuchulainn