Internet Rising at the Creators Project, San Francisco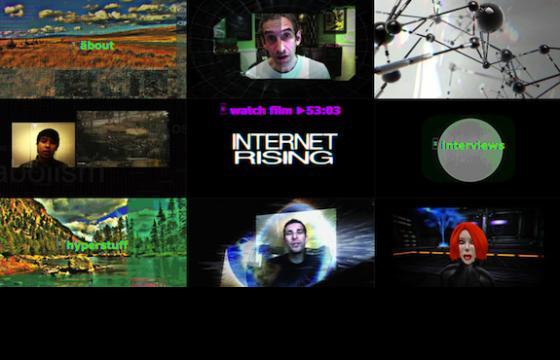 Internet Rising premiered its first public screening at the Creators Project, San Francisco on Saint Patrick's Day. Introduced by Creators Project Global Director, Julia Kaganskiy -- called one of the "most influential women in technology" by FastCompany -- the documentary is an engaging amalgam of fact, philosophy, and stimulation from the information age.


Words and photo by Cameron Cuchulainn

In essence, this film by Andrew Kenneth Martin, Marina Eisen, and Alex Eisen is about the collective type of consciousness and connection that the Internet embodies (alert, unconscious, and subconscious), and is continuing to grow, a phenomenon that has effects that we take somewhat for granted today but don't see the reverberations and new thresholds of for tomorrow. Looking to the past with archival video explaining the advent of computers and the Internet to the public, and weighing in with the commentary of some of the most influential voices in analysis of the Internet today, Internet Rising inspires us with the magnitude of how the steadily evolving Internet affects us individually, collectively, and more and more as an interlaced unit of humankind.
An easy way to get one's mind into this film's head space is to consider readily available knowledge that we access online, things like step-by-step examples of how to do math problems, GPS directions on our phones, Wikipedia bios on new artists, or hyperlinks to information that others find interesting or important. These are all ways to increase the knowledge and practical resources we have with less adversity or barriers posed to their implementation. The Internet thus serves to facilitate a vast auxiliary of knowledge, and does not stop in its tracks because of geographical limits or other factors that would constrain us as individual humans. In a little less than an hour, Internet Rising takes us further down the road with this type of awareness. According to its YouTube description, the film "is a digi-documentary investigating the evolving relationships between the Internet and collective consciousness of humanity. It provokes many questions about ancient and modern paradoxes of life, its pleasures and pains... and the gray area contrasts in between - but most of all it is meant to be an inspiring conversation starter."

Conversation is the primary material the film is made of: all of the commentary from people like futurist thinker Jason Silva come from webcam interviews conducted on Skype. As the makers of
Internet Rising
explain, they range "from professors, corporate academics, futurists, researchers, writers, bloggers, media creators, activists, gamers, educators, scientists, artists, innovators" with their voices "all centered around technology's transformative and generative power." By the end of a question and answer session after the screening Saturday night, Alex Eisen was happy to see the conversation continuing: "it left an imprint...the film was revealing itself." Inspired and desiring to light a fire in others, Eisen hopes that the more we know about the Internet, the more we will use it for it's incredible beneficial potential.
First released online on November 29th, 2011, Eisen notes that the film has been working with a "slow burn," currently hitting around 50,000 YouTube views. You can watch it
here
. If it pricks your brain, you can access more content like full-length versions of the interviews that the film is based on, by following this link:
http://www.freebase.com/view/m/0hqdx4c
or by visiting the film's
website.
Co-producer and co-writer Marina and Alex Eisen: