Installation
Swoon and the Heliotrope Foundation: 'Pearly's Beauty Shop' Fundraiser
May 21, 2016Superchief Gallery, Los Angeles
Juxtapoz is happy to announce a group exhibition and fundraiser by acclaimed street artist and 2x cover artist Swoon at Superchief Gallery LA on Saturday, May 21st!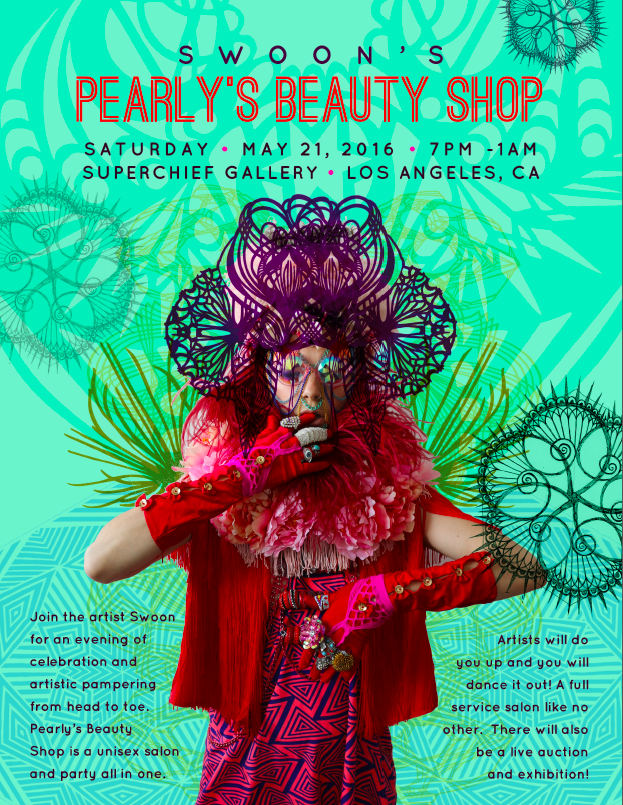 WHAT: Pearly's Beauty Shop, now in its fifth year, is unlike any event you've ever attended. Part exhibition, part live auction, part dance party, and part pop-up unisex beauty shop for which all stations are manned by artists. Nails done by a painter? Hair diorama by a sculptor? Makeup by a conceptual artist? Performance-artist-paraffin- dip? No matter your aesthetic desire, Pearly's has you covered. Artists will be partnered with salon technicians to recreate their designs; you'll find salon stations throughout the party and revelry all around.
WHY: The Heliotrope Foundation, a nonprofit started by Brooklyn-based artist Swoon, helps communities respond and heal after natural disasters and other urgent social crises. Heliotrope works primarily with three initiatives:
• Braddock Tiles: a multi-tiered community arts project revitalizing the once-prosperous Rust Belt neighborhood of North Braddock, PA (2007 – present)
• New Orleans Airlift's Music Box: a sonic playground, performance venue, and laboratory for musical architecture and community engagement in New Orleans (2011 – present)
• The Konbit Shelter Project: a comprehensive and locally sustained community building project in post- earthquake Haiti (2010 – present)
HOST COMMITTEE: Swizz Beatz • Jane Golden • Sallyann Kluz • Andrew Lockhart • Karmimadeebora McMillan • Sandra Powell • Zahra Sherzad • Anthony Spiegel • Ryan Nuckel • KT Tierney • Natalie Kates • Bill Dunleavy • Edward Zipco • Marsea Goldberg • Als Kenny • Ryland Behrens • Tamara Goldstein • Lisa Shimamura • Andrew Edward Brown • Liat Cohen • JL Sirisuk • Raina Mehler • Damian Roman • Alex Fanning • Afrodet Zuri • Andrea Fiona Pagliai Londoño • Siovan Hope Ross • Adam Lehrer • Kristin Sancken • Charlotte Reed • Kurt McVey
For the past four years, Swoon has invited artists such as Shepard Fairey, Dustin Yellin, and Maripol to each offer a limited edition print for Heliotrope to accessibly price at $50 in support of Braddock Tiles. For this year's edition of Pearly's, Swoon has tapped Juxtapoz editor Evan Pricco to guest-curate a group of Los Angeles-based artists for an exclusive Pearly's 2016 print release.
WHEN & WHERE: Saturday, May 21 • 7pm – 1am •
Superchief Gallery LA (739 Kohler Street) TICKETS: Tickets start at $50

Here is a special link for JUXTAPOZ readers to get TICKETS!