Installation
Superchief Hosts Open Submissions For Their "TRI-COASTAL MEGA GROUP SHOW"
May 12, 2018
Superchief Gallery just announced their upcoming annual group show taking place in New York, Los Angeles & Miami, all simultaneously, featuring their huge roster of contemporary artists and as much raw new talent as they can find, opening June 1st.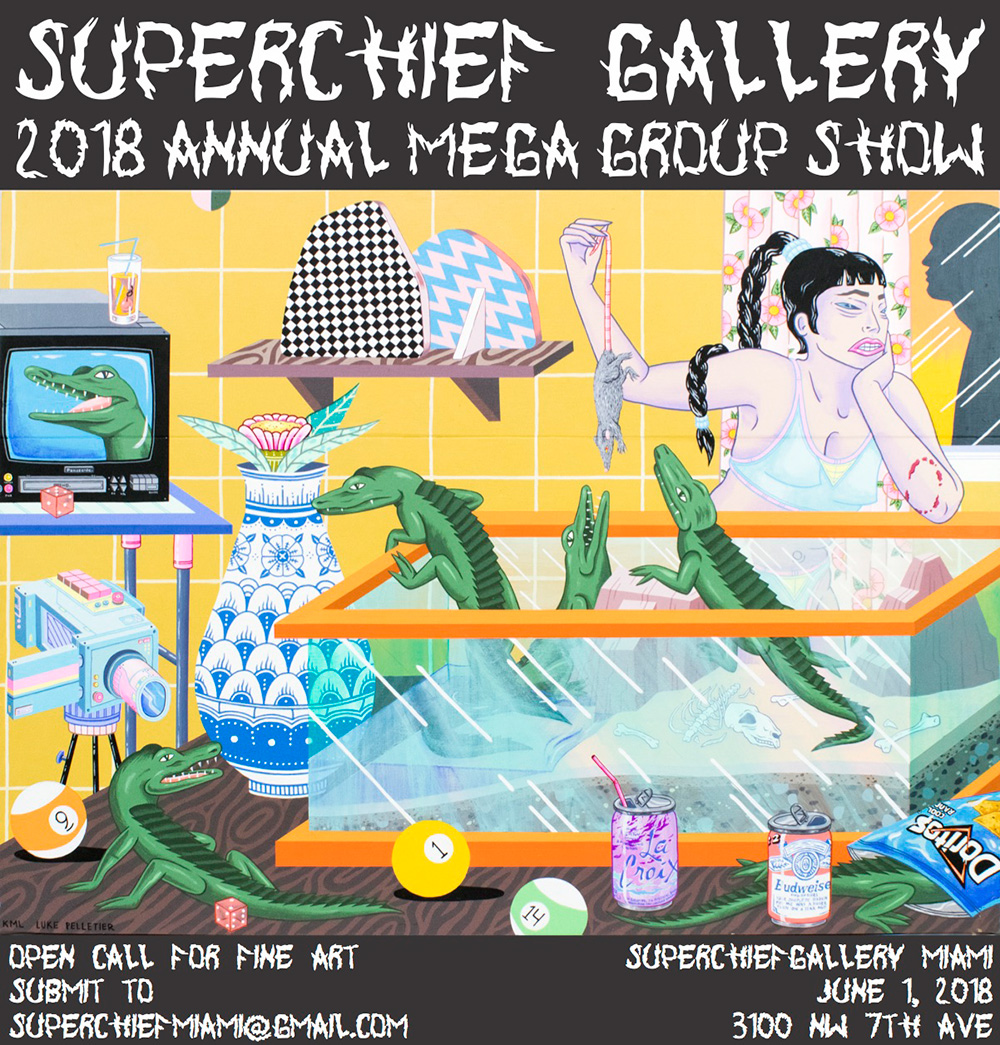 Last year, Superchief celebrated five years as a gallery with gigantic warehouse gallery parties in NY and LA, and this past winter instead of hibernating, they have been busily growing that 3rd arm, their biggest location yet, in Miami, Florida, just two blocks west of Wynwood.
This June 1st, Superchief Los Angeles, New York, and Miami will have all TRICOASTAL MEGA GROUP SHOW opening parties take place simultaneously on all three coasts, working to unite the art scenes and foster cultural relationships between the cities themselves. The parties will all be live streamed to each other and the internet, with special guests and performances at all three.
As a special bonus, Superchief is doing a 5 day long free open call to artists that would like to get in the mix and show along side our favorite artists in the world. artists can be from submitting to any one of the galleries from anywhere in the world. (You just have to be down to ship your art out ASAP.)
The LA show will feature giant murals, photography and work by artists we love such as Kristen Liu Wong, Parker Day, JJ Villard, Yok & Sheryo and so many others spread across the 4,000 square-foot gallery, you can feel free to submit work to [email protected] (Deadline is Tuesday, May 14th.)
The New York show is strictly screen-based artwork. The 7,000sqft gallery in Ridgewood will be bathed in projectors to feature the newest and edgiest video art, digital and traditional animations, and VR experiences for #STIMULATIONOVERLOAD4. Please send your digital submissions (deadline Tuesday, May 14th) to [email protected]
As the newest member of the pack, Superchief Miami is a gigantic, 20,000sqft warehouse gallery with shipping containers in the back lot. This location has seen two openings since they hung their skull flag last December during Art Basel, popping off the location with a secret afterparty for the EPIC Juxtapoz Clubhouse, inside of which they presented yet another full group show (and an after-after party) to the fam. Then they opened their doors again in March for the digital art show #STIMULATIONOVERLOAD3 featuring a special performance by Azealia Banks, continuing on with quarterly events throughout 2018 until they get cooking with gasoline in 2019.
Superchief MIA is hyped to have artists including Jose Mertz, Lofty305, PoshGod, Saute, Aholsniffsglue, Atomic, Baghead, Anthony Lister in the group show and more. They are also accepting submissions of physical artwork (deadline Tuesday, May 14th), and submissions can be sent to [email protected].