Installation
Please Touch: Body Boundaries @ Mana Contemporary, Jersey City
Apr 29, 2018 - Aug 01, 2018Mana Contemporary, Jersey City
A few weeks back, we were at the special Mana Contemporary Open House in Jersey City, one of the standout exhibitions was the Ysabel Pinyol-curated show, Please Touch: Body Boundaries, featuring works by Takashi Murakami, Ruby Neri, Faith XLVII, Cindy Sherman, Kiki Smith, Swoon and many more.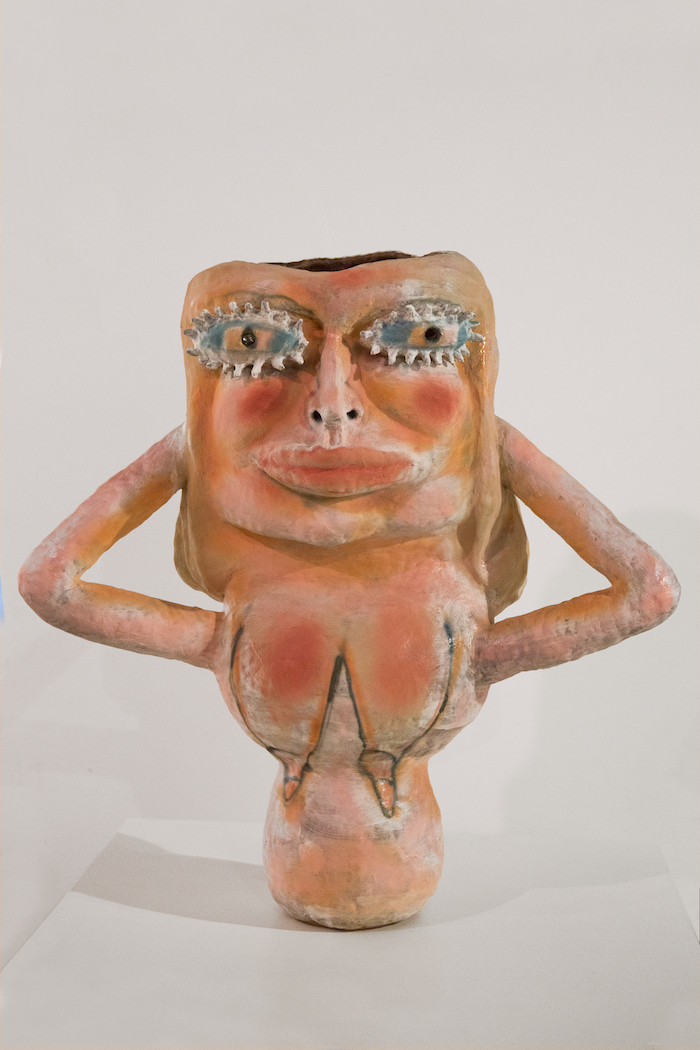 Please Touch: Body Boundaries is an exhibition of more than fifty artists who reference the body to illuminate conceptions of identity, femininity, and the gaze. "Sexualization of the human body has been an ongoing theme throughout art history, from breast imagery in churches to classical female archetypes," explains Ysabel Pinyol, curator of the exhibition and Curatorial Director of Mana Contemporary. "With increased attention surrounding gender politics and body-boundary violations, I think it is important to present an exhibition that examines both the ubiquity and longevity of artists using the body to illustrate broader social topics."
Please Touch: Body Boundaries is organized in collaboration with filmmaker Dana Ben-Ari. Ben-Ari explains, "The exhibition engages with today's climate of accusations, denials, bodies, and borders through work that is sensual, exhilarating, painful, confusing, sexual, and vulgar." The exhibition includes contemporary art dating from the 1960s through 2018. Works examine identity and sexuality, expectations and assumptions, and role-playing as well as breastfeeding and motherhood.
In their approach to the show, Ben-Ari and Pinyol ask many questions: "When is the body's anatomy sexualized and in what contexts? For what reason? What are the boundaries?"
Line-up: Z Behl, Brigid Berlin, Iris Bernblum, Louise Bourgeois, Sam Cannon, Larry Clark, Renee Cox, Isabel Czerwenka-Wenkstetten, Sue de Beer, Jamie Diamond, Jess Dobkin, ANGE, Jill Downen, Faith47, Nona Faustine, Yara Flores, Zhen Guo, Clarity Haynes, Stephen Irwin, Amy Jenkins, Malia Jensen, Zoë Sua Kay, Laura Kimmel, Martin Kippenberger, Jiří Kolář, Justine Kurland, Ani Liu, Mary Ellen Mark, Sean Mellyn, Azikiwe Mohammed, Jeffly Gabriela Molina, Kristianne Molina, Takashi Murakami, Michelle Murphy, Ebecho Muslimova, Ruby Neri, Olek, Yoko Ono, Catherine Opie, Genesis Breyer P-Orridge, Elaine Reichek, ThreeASFOUR, Lola Montes Schnabel, Tschabalala Self, Cindy Sherman, Kiki Smith, Annie Sprinkle, Swoon, Atelier van Lieshout, Pinar Yolaçan, and Barbara Zucker.