Installation
Josh Short's "Bomb Shelter Radio" at The Growlery
Aug 13, 2018 - Sep 23, 2018The Growlery, San Francisco
The Growlery has brought multimedia artist Josh Short to their San Francisco gallery with his latest installation Bomb Shelter Radio. Short just finished a two-month residency at The Growlery, and Bomb Shelter Radio has been broadcasting low powered radio since 2009. Temporal by design, Josh builds radio stations out of materials scavenged from where ever he's setting up shop, making each installation a unique experience.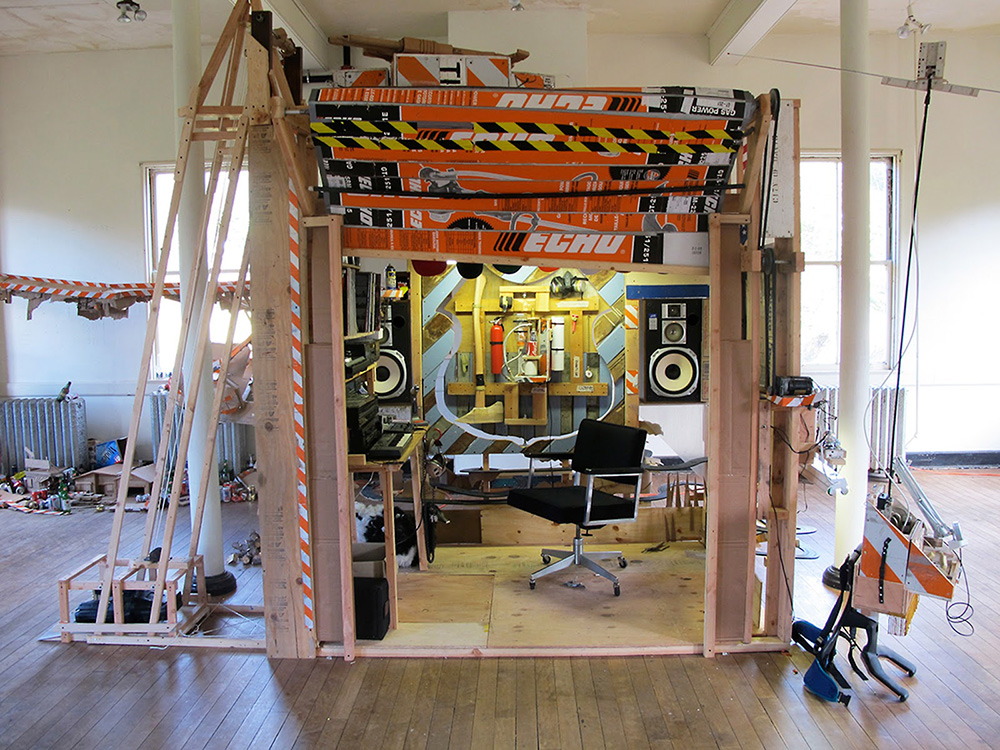 The radio station becomes a hub for live music, interviews, guest DJ's and experimental sound collage. The last Bomb Shelter Radio: San Francisco installation took place at Evergold Gallery back in 2012. Functioning as a self-defense club by day, and an all-ages venue by night, BSR hosted over 20 bands, a comedy night, and the Noise Pop festival. Since then the project has taken root in Omaha NE, Jackson Hole WY, Memphis TN, New Orleans LA, Saratoga Springs NY, and other locations.
In 2016 Short transformed a 1978 Chevy LUV into a mobile radio wagon AKA "Lucille Valentine" and embarked upon the "Lucille Valentine Tour". The yearly tour makes 4-7 stops in various cities across the country, setting up the wagon in parking lots, bars, and alternative art spaces. The broadcasts from "Lucille" are typically composed of old Rock N' Roll and Soul 45's collected on the road.
2018 marks a return to San Francisco. Broadcasting from the garage at the Growlery, Josh is armed with 6 years of record collecting and stories from his extensive travels. As a stranger in his hometown, he aims to see the city with fresh eyes and reconnect with the city through radio. Live broadcasts start August 13.
Bomb Shelter Radio Archives can be found on Soundcloud, The BSR Podcast and the Growlery's live broadcasts can be listened to on Mixlr.
About the Artist: Josh Graduated with an MFA from UC Davis 2009. He was awarded a Joan Mitchell Foundation grant, and a graduate fellowship at The Headlands Center for the Arts in 2010. Joshua has had several solo exhibits at venues at the Bedford Gallery, Johansson Projects, The San Francisco Arts Commission Gallery, and the Exploratorium. Josh has been a resident artist at the Bemis Center for Contemporary Art, Yaddo, Joan Mitchell Center, and Crosstown Arts. He regularly tours the country operating his Low Powered FM radio project "Bomb Shelter Radio".