Installation
Jacob Hashimoto Takes Over NY's Governor's Island with "The Eclipse" and "Never Comes Tomorrow"
Jun 02, 2018 - Oct 31, 2018Governor's Island, New York
It's been up all summer long, but we have been enjoying seeing images of Jacob Hashimoto's installations on Governors Island: The Eclipse and Never Comes Tomorrow. Both works have never been shown in the US, and are his first public art installations in NYC. The exhibition will be on display daily inside Governors Island's St. Cornelius Chapel and outdoors in Liggett Hall Archway through October 31, 2018. The works are made from "thousands of delicate, hanging rice paper kites, cubes and funnels."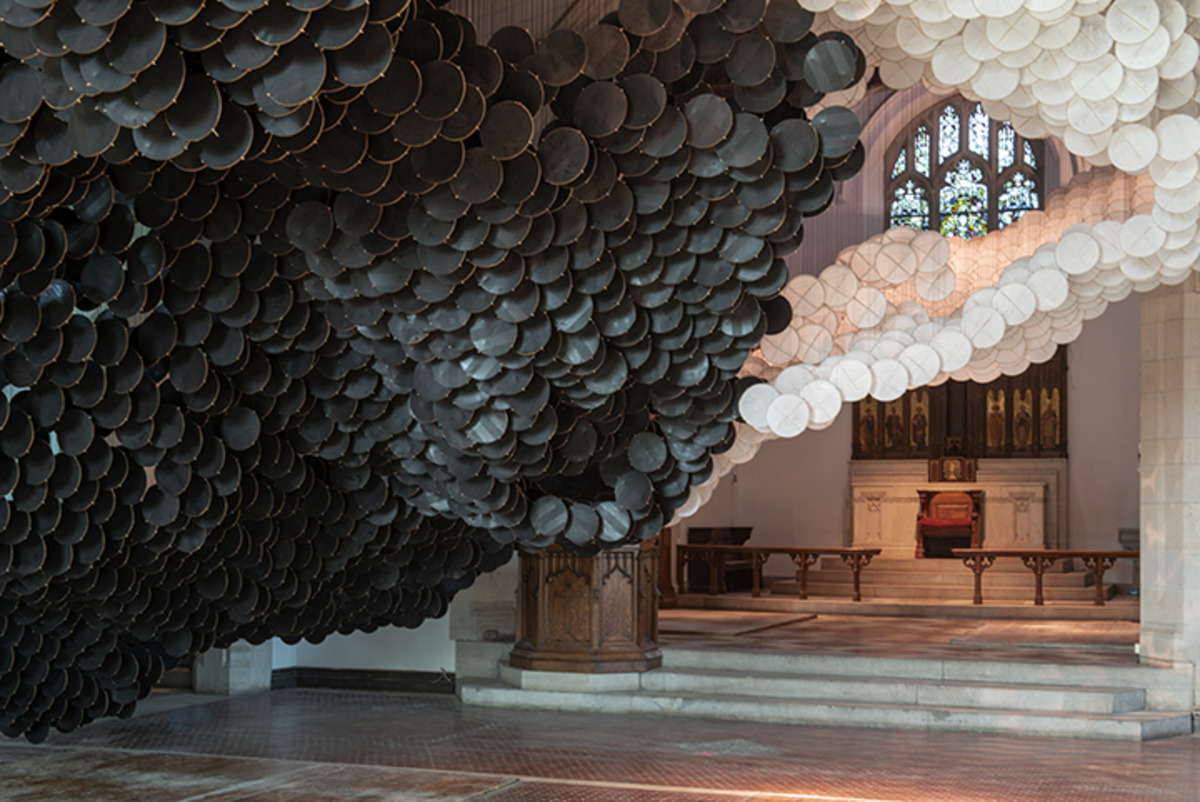 From the Governor's Island site:

Showcased in New York City for the first time, Hashimoto's The Eclipse is a monumental work of thousands of delicate rice paper kites, enveloping viewers in a tangible, yet ever shifting fog. Originally installed at the Palazzo Flangini during the 57th Venice Biennale, the cloud-like work has been newly adapted for Governors Island's St. Cornelius Chapel, winding, bending and at times consuming the architecture. St. Cornelius Chapel, owned by Trinity Church Wall Street, will open its doors for the first time since 2013 for visitors to delight in the piece.
Contrasting the installation in nearby St. Cornelius, Hashimoto's Never Comes Tomorrow is a colorful, whimsical overhead outdoor installation adapted for Governors Island's landmark Liggett Hall Archway.Constructed of hundreds of wooden cubes and massive steel funnels, this high energy sculptural installation plays with the architecture of the passageway, creating a virtual time tunnel or vortex between the Island's Historic District and newly designed park with its colorful installation of forms. Never Comes Tomorrow merges Hashimoto's interests in the systems of architecture, history and cosmology.