Installation
Interview: The Story Behind the Royal Chicano Air Force's New Mural @ Golden 1 Center, Sacramento
March 06, 2018
Last week, the Royal Chicano Air Force, one of the most influential Chicano art collectives of the 20th Century, unveiled a new mural in Sacramento at the Golden 1 Center just prior to the Kings' NBA game. Keeping up with the arena's attention to art (they do have a Jeff Koons sculpture in front of the arena), the inclusion of the RCAF's work harkens to the roots of Central California's art history, as the group was founded in 1970 by José Montoya and Esteban Villa in Sacramento. On the occasion, Juxtapoz had a chance to catch up with Juanishi Orosco, another of the RCAF founders, for a few minutes prior to the game to talk about the mural's significance, the history of the group and the importance of cultural activism.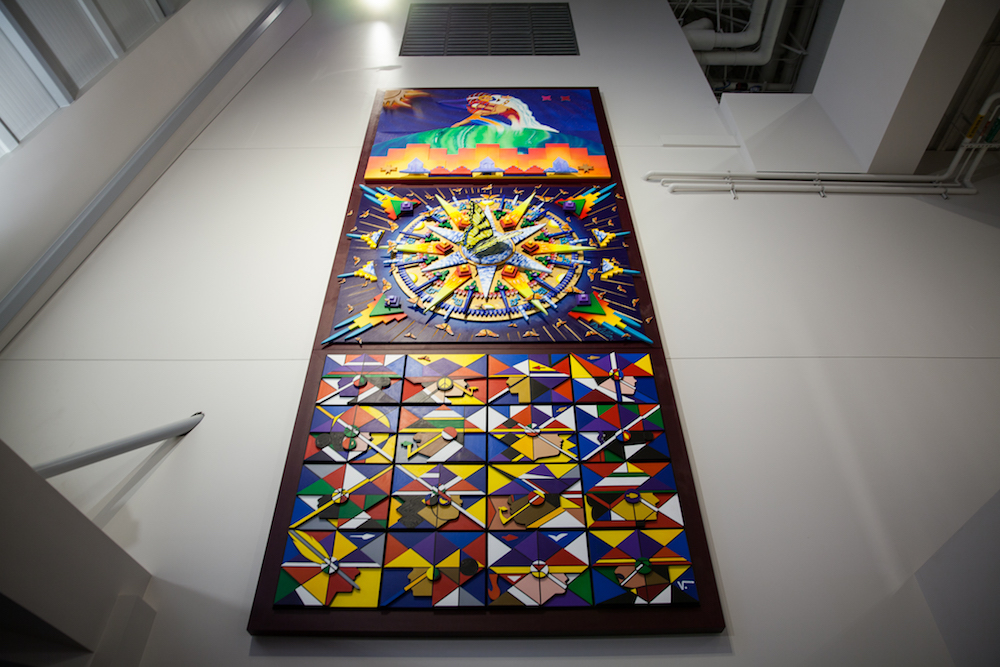 Mike Stalter: How did the mural project happen?
Juanishi Orosco: We actually approached the SMAC (Sacramento Metropolitan Arts Commission) about doing something with the butterfly mural we had previously done at Macy's next door. Interestingly, they asked us to instead do a brand new project here at Golden 1, but that was two years ago. It's funny how long these things can take sometimes. The actual painting part took one month. So two years of paperwork and planning for one month of work.
What's the inspiration for the mural?
It's called Flight, with the idea being what does flight mean to you, what does it mean to me, how do we represent that? Each of us kind of had our own take on what that means. For me, it was kind of like leaving earth, so to speak, like in the Aztec calendar.
So this project came about initially because of the other one you wanted to touch up. Will that eventually happen as well?
So much is changing downtown here. It's kind of a question as to whether it will be there. If the parking lots stays, sure, we'll probably end getting the commission to restore it. It's kind of up in the air right now.


What other projects are you guys working on right now?
We just finished this one a few weeks ago. We're taking a little hiatus right now, but we always have our eyes on projects for down the road.
RCAF was founded on having something to say, taking a stand, cultural activism. What do you think about the current state of art and artists doing this and pushing for change?
That has been our focus for the last 40 years. We see a lot of what we consider to be the good, bad, and the ugly. I see a lot of artists, especially recently, taking a stand. They see a challenge and step up. Look at the young kids coming out of that Florida high school. We have to support them because you know, our politicians aren't, so we all need to step up and hold people accountable. We need the dreamers and people tied to DACA to help point the way, because they're the next generation. We've taken it this far, but as guys in our 80s, we're running out of gas a little. Not totally out of gas, but maybe just a little slower step!

Photography by Mike Stalter