Installation
Darren Cullen's "EMPIRE AIR" Addresses Absolute Luxury and Absolute Destruction
June 14, 2018
Darren Cullen, a British artist and illustrator who was introduced to a global audience with his Pocket Money Loans booth at Banksy's Dismaland back in 2015, recently introduced his latest work in cooperation with Positive-Propaganda and Kulturreferat München. On view from 20th until 29th of April 2018, EMPIRE AIR Pavillion was placed in front of the Bavarian State Opera as an interdisciplinary installation that addressed global political and social issues through dark humor and clever sarcasm.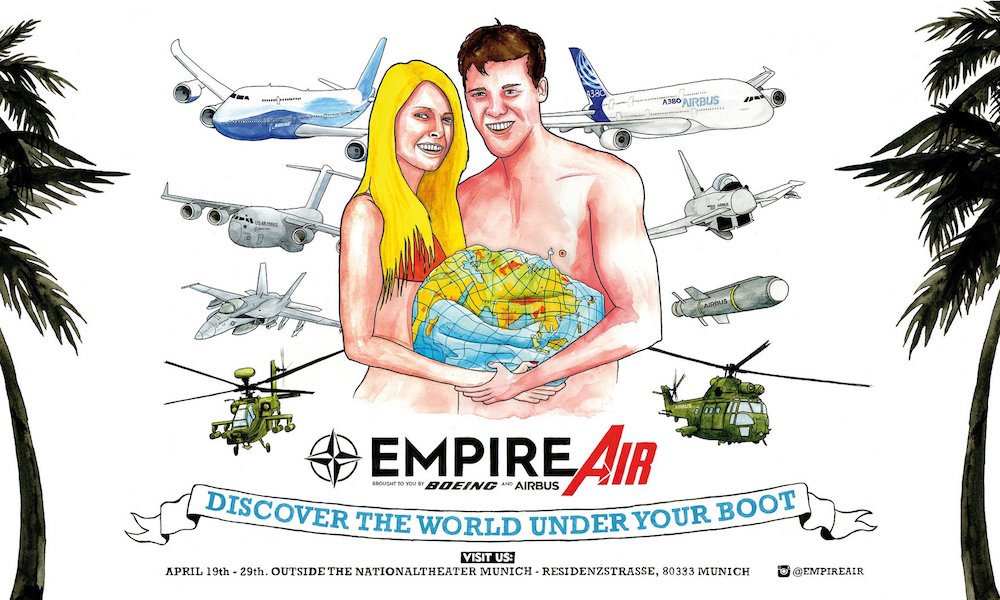 The concept of the showcase revolves around the idea of concealed modern day imperialism depicted through tourism and leisure. While most people feel that they are powerless and detached when it comes to wrongdoings of their governments, Cullen puts the blame directly into the hands of the end user. Making connections between attractive exotic destinations with present and past colonial activity, the sobering installation suggests the ways everyday people affect life globally. Although using satire as his main tool, which is then composed within different advertising channels and formats, the works are widely based on true facts and information. With the idea of introducing a concept of a neocolonial travel agency, EMPIRE AIR "offers" vacations in ex-colonies like West-Togo or Cameroon, conveniently conducted by the same companies that produce weapons used in those areas.
Positive-Propaganda presents EMPIRE-AIR by Darren Cullen from Positive-Propaganda on Vimeo.
Built around the idea of two leading aerospace companies, Airbus and Boeing, producing both civil and military aeronautical products, the installation features a number of detailed sculptures, drawings and a video installations created especially for the project. This idea also points out the paradoxical situation in which Westerners can go into any of those countries for work or pleasure, while people from the same places aren't allowed to visit the countries of Western Europe. Showing the way colonialism paved the way for modern-day tourism, EMPIRE AIR aimed to reveal the deep amnesia in Western society. —Sasha Bogojev