Installation
Ceramics and Paintings: Shio Kusaka and Jonas Wood @ Voorlinden museum, The Netherlands
Sep 30, 2017 - Jan 07, 2018Voorlinden Museum, Wassenaar, The Netherlands
Back in September 2017, the Voorlinden Museum in The Netherlands opened a duo exhibition featuring the artist and couple Shio Kusaka and Jonas Wood. On view until 7th of January 2018, their first ever two-person exhibition in Europe is focused their mutual influence, shared motivation of sources and complementing aesthetics.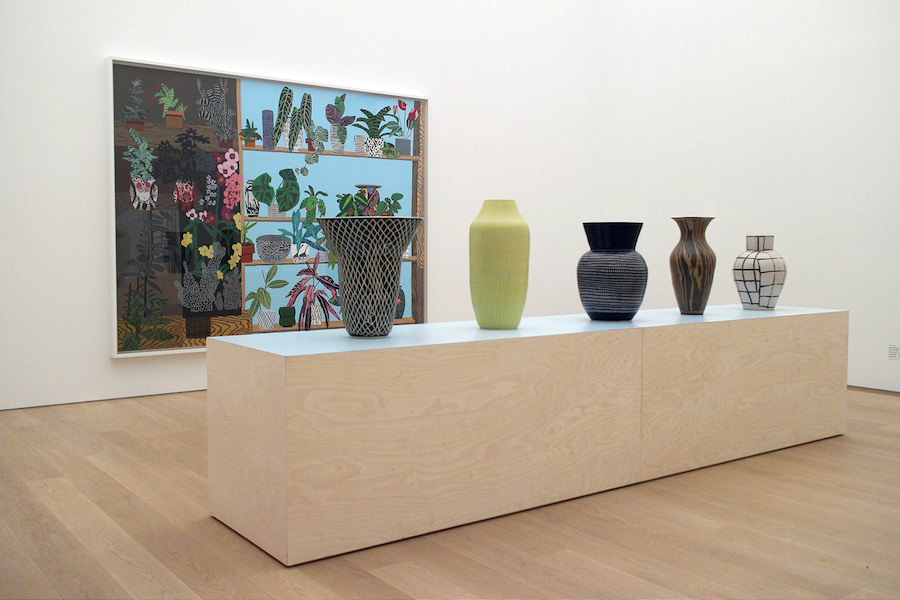 Although working as individual artists, the works of Wood, a painter originally from Boston, and Kusaka, a ceramic artist from Japan, seems to be as intertwined as their lives. The pieces picked for this showcase are aiming to present this connection from obvious examples in which Kusaka's ceramics are portrayed in Wood's paintings, to more subtle use of his patterns as textures on her pottery. But aside from sharing of similar imagery and the constant subject/object interaction, both artists show a passion both for geometrical shapes, as well as appreciation for imperfection. Appearing in their earliest works dating back in 2010 or 2011, Wood's works askew perspectives and two-dimensional shapes are great match with Kusaka's pots and vases, which are rarely symmetrical or entirely round. Divided in 6 separate rooms, the installation includes some 60 individual stoneware and porcelain pieces, as well as couple of rare editions on paper by Kusaka, and around 40 pieces by Wood, ranging from small collage showing his studio process, limited edition multiples, a series of floral pieces on paper, all the way to monumental oil and acrylic pieces on canvas. —Sasha Bogojev

Click here to read our review of Jonas Wood's recent show at David Kordanksy in Los Angeles.
Photos by @SashaBogojev

The show will be on view through 7 January, 2018