Installation
A Good Kind of Snarky: Snarkitecture Takes Over the National Building Museum, Washington, D.C.
Jul 04, 2018 - Sep 03, 2018National Building Museum, Washington, D.C.
As we know from following one of Snarkitecture's members, Daniel Arsham, to Tokyo last month for his exhibitions at Nanzuka and Perrotin, the artist and his collaborators are about experiential and immersive art. Fun House is Snarkitecture's newest exhibition, housed in the hall of the National Building Museum in Washington, D.C., filled with interactive rooms and from past Snark work and some new installation works as well.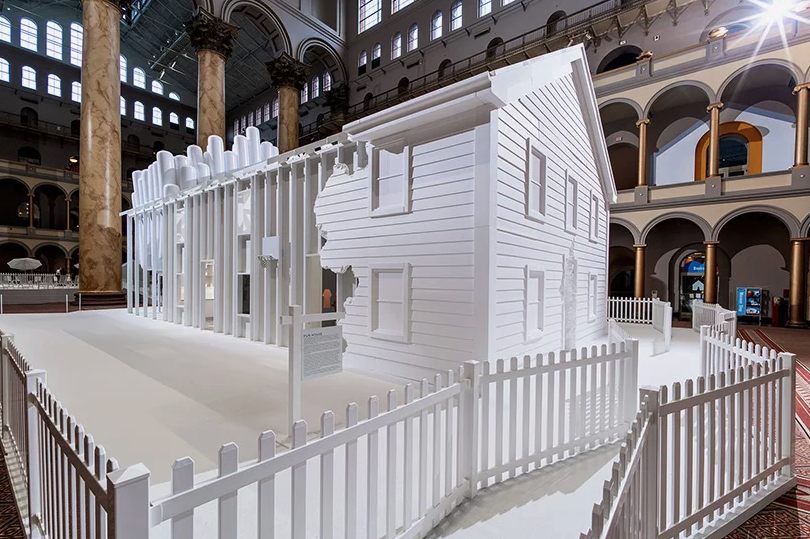 Fun House is Snarkitecture's first comprehensive museum exhibition, examining the prolific activities of the studio throughout the entirety of the Great Hall. Curated by Italy-based Maria Cristina Didero, the heart of the exhibition is presented within a Snarkitecture-designed house—a freestanding structure that recalls and re-imagines the idea of the traditional home. Fun House includes a sequence of interactive rooms featuring well-known Snarkitecture environments and objects, like Dig (2011) and Drift (2012), as well as new concepts developed for the Museum. As visitors walk through the house, the rooms convey the ten year story of Snarkitecture while underlining the studio's peculiar, yet accessible way of reinterpreting the built environment.
In the Museum's west court, or "front yard," a custom recreation of A Memorial Bowing (2012), welcomes visitors into the space. Visitors exit the house towards the east court, or "backyard," greeted by Playhouse (2017) and a kidney-shaped pool filled with hundreds of thousands of recyclable plastic balls, reminiscent of The BEACH (2015-17).
Founded in 2008 by Alex Mustonen and Daniel Arsham, and joined by partner Benjamin Porto in 2014, Snarkitecture is a New York- based collaborative practice operating between art and architecture. Best known for their playful approach to material and the reinterpretation of everyday objects and environments—from the raw, yet refined interiors of various Kith and COS stores to immersive installations at Salone del Mobile, the New Museum, Design Miami, and more—the studio's tenth anniversary represents an opportune time to explore past work in a brand new format.

images via designboom
We all want to do this. @snarkitecture at the @nationalbuildingmuseum in Washington D.C.