Installation
2017 In Review: Damien Hirst's "Treasures From the Wreck of the Unbelievable" in Venice, Italy
December 28, 2017
We keep up on "Year In Review" stories, looking back on the most popular posts on Juxtapoz.com this year. Today, we look at what was a major craze in the contemporary art world in Spring 2017, with Damien Hirst's mega installation at Venice's Palazzo Grassi during the Venice Biennale. The show opened to crazy reviews, jaw-dropping presentations and a sort of Instagram clamour that we are seeing more and more in the art world. This article was originally published on April 10, 2017.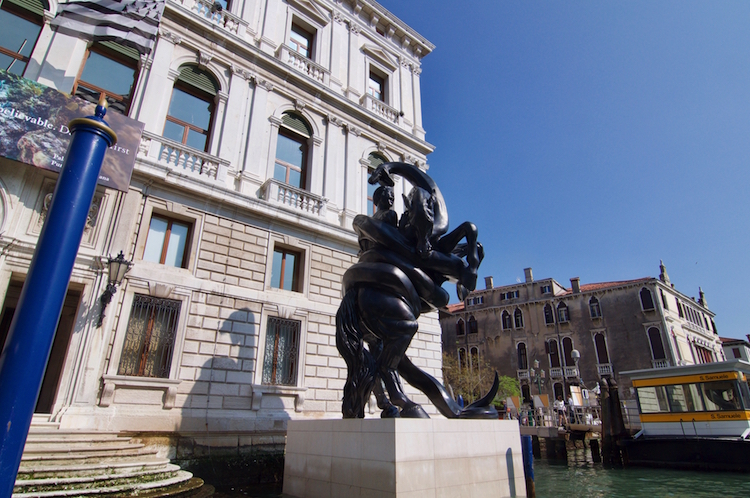 Treasures From the Wreck of the Unbelievable opened this weekend at Venice's Palazzo Grassi to rave reviews and a return to Damien Hirst's genre-bending and art-tantalizing form. Our friend Andrea Concina documented the show for us in Venice.

Rarely do we at Juxtapoz get involved in such mega-buzz-worthy contemporary art shows, as we know that most of the art critics will write dissertations on something as large as Damien Hirst's "comeback." But once we began seeing these oddball, beneath the sea "un-discoverings" of sculptues and statues attributed to Hirst's new show at Venice's Palazzo Grassi with the title Treasures From the Wreck of the Unbelievable it gained our interest. And wow, what an all-out blockbuster. Even if the art isn't your forté, there is something about an artist going all-in on a big idea, creating their own alternative universe, putting that alternative universe into a historical context on the power of discovery, collecting, and the way museums build their antique collections, is something to pay attention to.

So what did Hirst actually do? Well, he created a narrative of a shipwreck, a shipwreck from a treasure ship called the Apistos (literally meaning "the Unbelievable"", that sunk 2,000 years ago, but was discoved at the bottom of the sea in 2008 off the coast of Africa. Already, you have to get yourself into a mindset that Hirst's wants you to suspend belief a bit, and the fact that it took him 10 years to do this project means he put a lot at stake that the audience, critics, and collectors would suspend belief with him. But as "staged" images of the treasures began showing up on social media, and when the unveiling of the works showed up this weekend in Venice, it was definitely Hirst at his finest as both storyteller and provocateur. From sculptures to photography, to Hirst's signature style of placing what appears to be the most mundane of objects in a vitrine to confuse and comment on what it is we deem as an art object, are all here. And for that, it's a big new step in grandiose art presentations, but in the end, it should be Hirst to up the ante.

All photography by Andrea Concina.