Juxtapoz
Influences: Marci Washington, Nov. 2013
May 16, 2014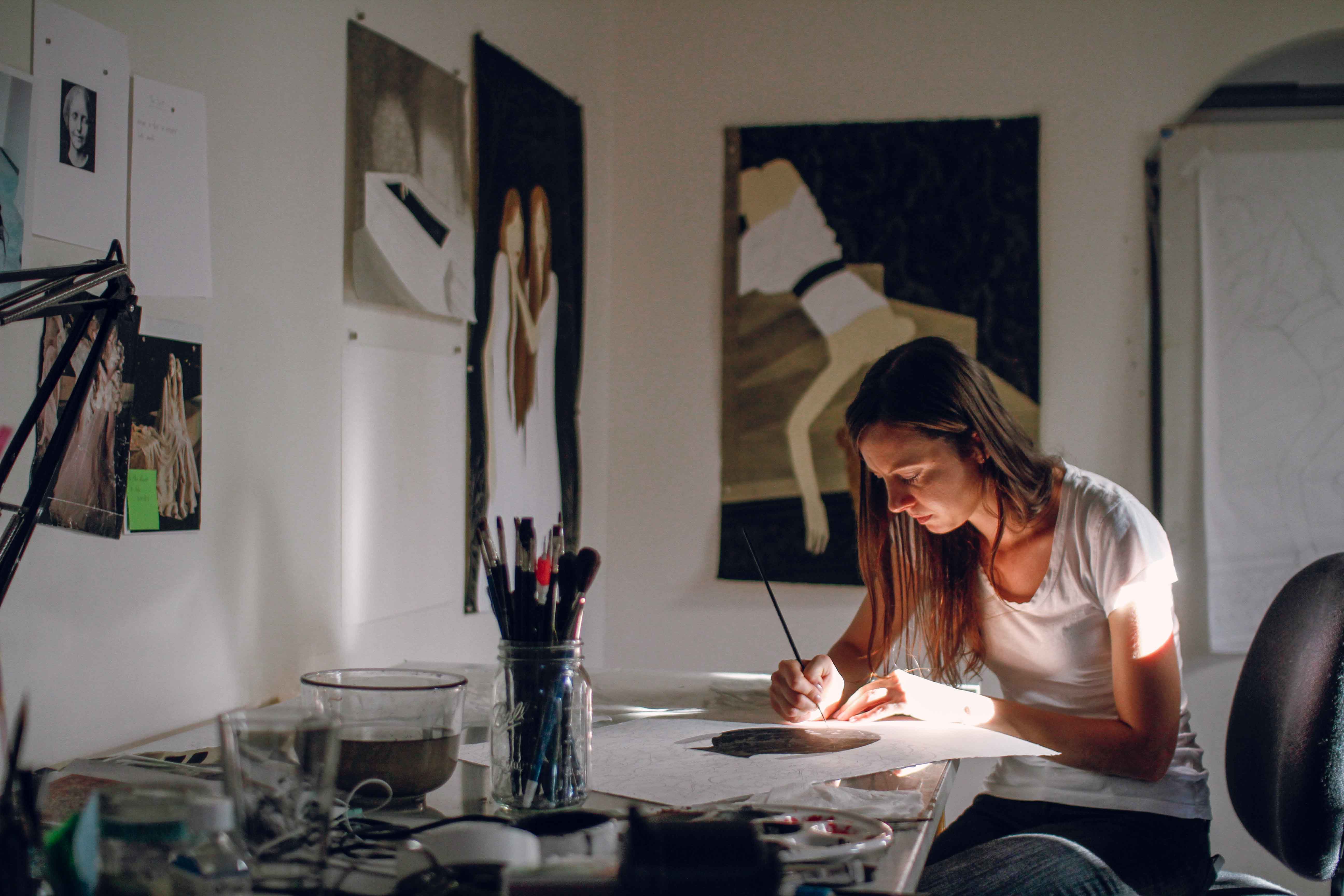 Originally published in the November, 2013 issue of Juxtapoz Magazine. Portrait by Alex Nicholson.
Forget the relentless production of teenage vampire television shows or low budget slasher movies with continuing sequels and remakes. Marci Washington paints the dark arts from a past era, influenced by the ornate beauty and the mysterious worlds of Edward Gorey, L. Frank Baum, and Francisco Goya. Remix these masters of fantasy with Fleetwood Mac's Rumours, and you get the work of this Berkeley-based artist.
Fiction
My biggest and longest running inspiration is fiction. We moved around a lot when I was a kid, and for as long as I can remember, I have considered books and movies as an escape, as well as a way to make sense of the world around me. I read my first novel, The Wizard of Oz, out loud to my mom while she sunbathed topless in our backyard when I was in second grade, and I was instantly hooked. From then on, I read everything I could get my hands on. As I got older, Stephen King and V.C. Andrews were special favorites. The darker, the better. Eventually, I ran out of paperbacks at the grocery store and started reading the classics.
Gothic novels are one of my all-time favorite forms of fiction and a huge inspiration to me. They do a great job of seducing you with romance and mystery, into letting your guard down as you lose yourself in a story. Once they have you under their spell, a different way of seeing can creep in around the edges. Social commentary disguised as entertainment can cut close to the bone before anyone has even seen the knife. This is exactly what I want my paintings to do. Books like Wuthering Heights, Jane Eyre, The House of the Seven Gables, Bleak House and We Have Always Lived in the Castle have all been direct influences on the work I make. I love buying old editions of these books, especially illustrated ones. The way they chose just one important moment to illustrate every so often directly influenced the way I decided to tell my story through just a few key paintings, like illustrations for a novel that doesn't exist.
The Romantic Movement
I also really love old romantic paintings. The way the Romantic Movement challenged authority and ideas about progress through heightened feelings and emotions is super close to my heart. Painters like Delacroix, Ingres, Delaroche, Goya and Caspar David Friedrich are huge for me. Ingres and Delaroche for their strange sense of emotions held just below the surface, repressed and frozen, and Friedrich for his feeling of still and lonely epiphany, not to mention Delacroix and Goya for the gore.
Horror Films
Horror films are another of my favorite forms of fiction. Film is great at lulling you into a dreamlike state where you can unconsciously lower your defenses. Through allegory and allusion, horror films can thrill you into contact with big issues like race, class, and gender without you even knowing that they're present. By hyperbolizing issues like these into monsters, maniacs, and ghosts, you are free to work them out in a safe place of fiction. Some of my favorite horror films that do this especially well, and that I've directly referenced in my work, are Eyes Without a Face, The Black Cat, and Dead Girl.
Music
I also listen to a ton of music and am super influenced by whatever I'm listening to. I'm especially fond of anything dark and epic, music with a heavy mood capable of transporting you out of the everyday and into a dark opera of feelings. I blow through music pretty fast since I listen to it so much in the studio, but right now I'm really into Chelsea Wolfe, The Body, Liturgy, Embers, Neurosis, Fever Ray, Kate Bush, Neil Young and Fleetwood Mac. The Mac is always around but I've just recently gotten into that album Tusk and it's crazy good.
Edward Gorey
Last, but certainly not least, is Edward Gorey, who has been a pretty big inspiration. His book The West Wing is one of my all-time favorite things. No words, just a slow and silent tour through a nearly empty house, so super eerie and gorgeous. I also collect the paperbacks that he designed for Anchor Doubleday. He drew the covers and most of them also have hand-drawn text. They're all super simple and gorgeous, with great linework and an amazing use of very limited color. Exactly what I want in my paintings.
For more information about Marci Washington, visit MarciWashington.com