Juxtapoz
In the Magazine: Maiko Takeda, June 2014
August 01, 2014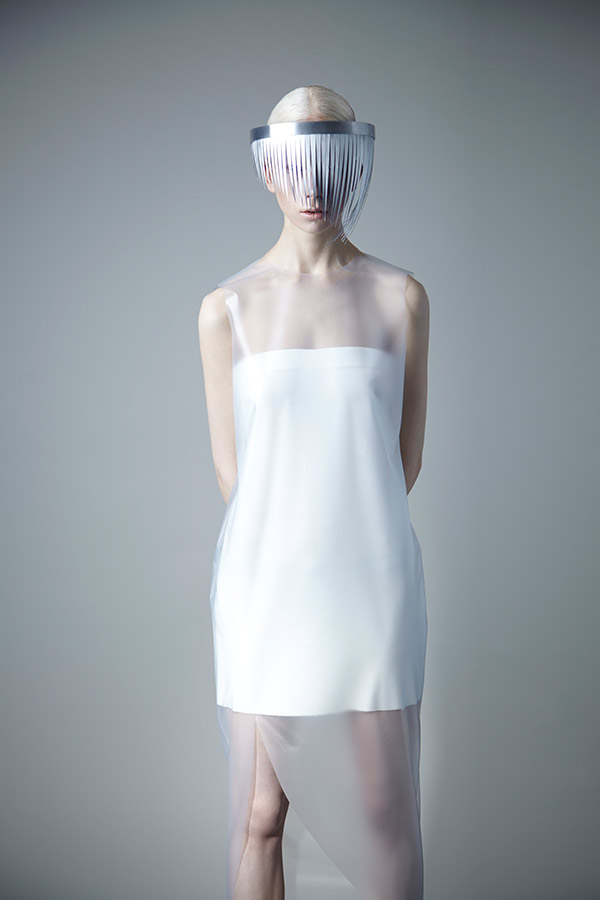 Originally published in the June, 2014 issue of Juxtapoz Magazine.
When F is for Fashion, in Maiko Takeda's atelier, it's not necessarily born of function. These are not logos branded on a five-panel cap. Form, fluidity and fantasy expand the narrow confines of the genre for this young artist who grew up in Tokyo and now designs and hangs her hats in London. –Gwynned Vitello
Gwynned Vitello: You have referenced Björk and Tilda Swinton as muses. Each has a strong persona, but nevertheless are like canvases for a range of expression, both ciphers, and maybe androgynous. Or do you see them in a different way?
Maiko Takada: Yes, I think their work and presence is so powerful and extraordinary. I admire what they stand for and how their influence creates culture.

How did growing up in Tokyo affect your childhood daydreams and the kind of images that fascinated you? Did movies or books have an influence?
When I grew up, all the typical craziness of Tokyo street style and culture, like cosplay people and neon signs, was always around me. I never felt inspired by it because I saw it all the time. To an extent, I agree that my work has been influenced by what you would call Japanese aesthetics. For example, I tend to like repetition of minimal elements and find beauty in things that are aerial and sublime. However, after living in London for nine years, my designs have also been influenced by people and cultures from all over the world. I hope there's a broad range of aesthetic and social references in my work.

Why was London the deliberate choice for school? Were you apprehensive about making the move?
Tokyo is huge, but it's not a very international city. Growing up, I always felt an urge to get out of the box and see somewhere I hadn't seen. During my final year of high school, I found that the British Council was located in our neighborhood, so I went and started to get information about universities in the UK. I was 18 when I moved to London, but was never worried or scared about it at all. I was young and didn't think too much, which, I think, was a good thing.

Did you paint or draw, and were you interested in designing clothing before concentrating on what could be called enhancements, but I guess I should call jewelry?
I wasn't that kind of fashion-obsessed child who liked designing clothes and dressing up. Instead, I was always involved in making three-dimensional objects and experimenting with various materials. Initially, I was thinking of studying sculpture when I moved to London, but gradually my interests shifted to creating something more functional and related to the body.

To me, fashion is a very superficial thing. It's about how you feel and how you look, and seems somewhat materialistic if you too are guided that way. However, there is so much more to it, and that is why I find it challenging to propose something that is not inspired by fashion.
As someone who is known for working with clear plastic film and feathers, can you describe your experience with rougher, heavier textures?
My latest collection, "Atmospheric Re-entry," happened to be made of plastic films and other transparent materials, but this was only because these were most suitable to realize the ethereal feel I aimed to create. However, I appreciate any sort of materials that excite me. For example, for my final collection during my BA in Jewelry Design at Central Saint Martins College of Art and Design, I only focused on metals such as silver and plated brass.

I'm guessing that your work studio is pristinely spare and orderly, but could it surprisingly be draped in bead curtains and flung with pillows?
Although my final designs tend to be pared down and discreet, my conceptual process is quite chaotic and many bits of materials and prototypes are strewn around all over the workspace.
Your art is dynamic and reflective, so I don't imagine it existing independently, since it is so complemented by environmental influences. For example, wind and shadows are a component in your work.
I like my pieces to be interactive and experiential. I like to involve airy, vaporous elements such as shadow and wind as part of my work, especially because clothes and accessories are normally made of more tangible and durable materials. I find it intriguing to seek and devise a way to propose something somehow more transient and ephemeral through my designs.
Can one of your hats be a valid piece on its own, or does it need a model? And I don't mean Gisele Bündchen.
My work lives its life within the environmental elements in the surrounding space, and most especially when worn on somebody and interacting with the movement of the wearer.

Then I can really imagine you moving on to set or costume design for theater or film.
Oh yes, I would love that. As I often draw inspiration from theater and performance, it would really be exciting to be part of such multi-sensorial pieces of work.
Are you listening, Tilda?
For more information about Maiko Takeda, visit maikotakeda.com