Juxtapoz
In the Magazine: Madlib with Freddie Gibbs, Jason Jägel, and Egon
July 14, 2014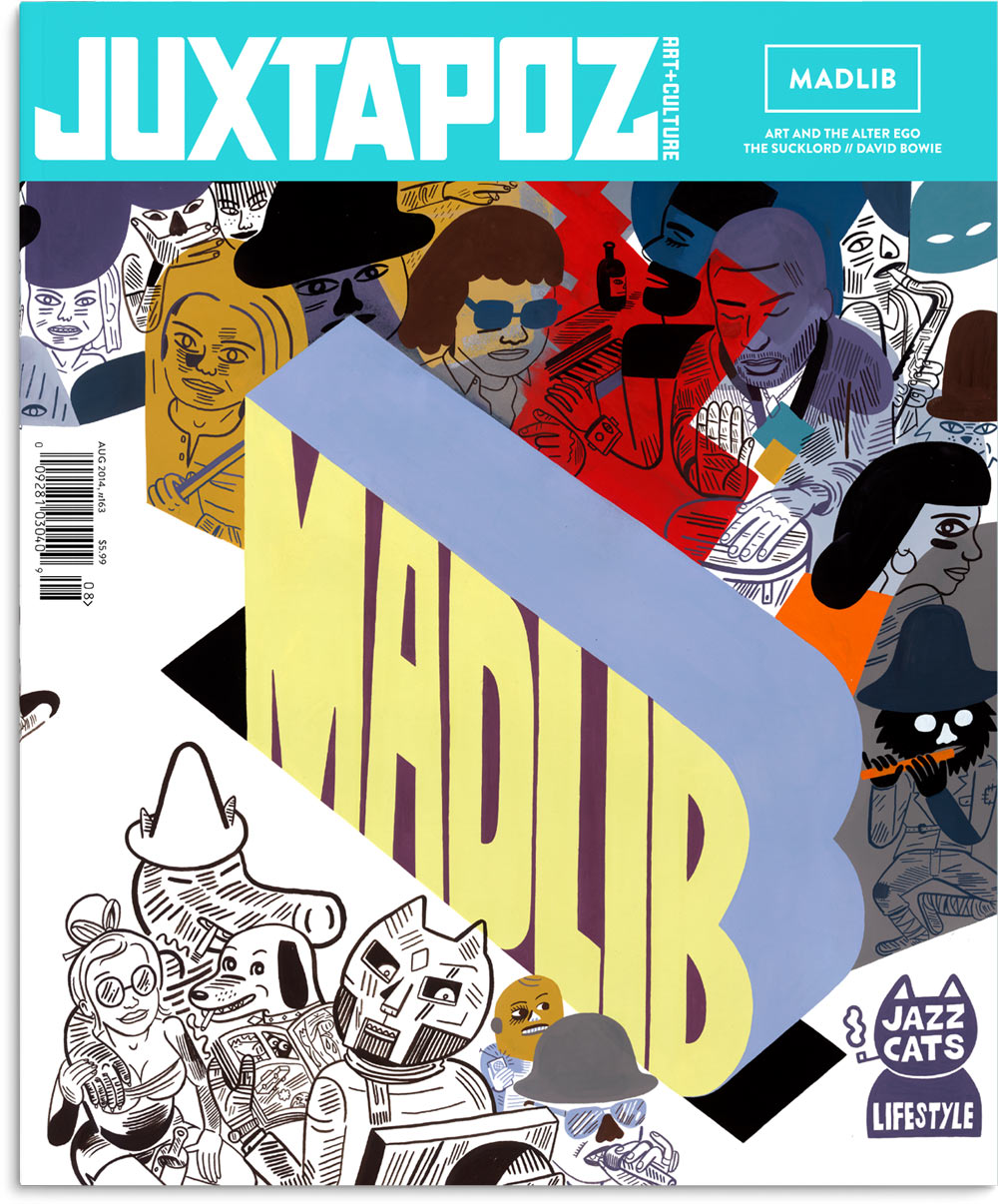 Read the full interview with Madlib in our current issue, August 2014, on sale now.
Or recieve a free copy of the August issue when you subscribe today.
----
For 20 years, Otis Jackson Jr., aka Madlib, has been crafting underground hip hop classics under the guise of countless monikers. Raised in a large family by parents who instilled an insatiable appetite for composing, experimenting and absorbing influences through their own musical careers, he has simultaneously progressed, fashioned and expanded the genres of hip hop and rap music, while developing his own styles in the process. His work with the groundbreaking Quasimoto albums and collaborations with MF DOOM as Madvillain are widely regarded by fans and critics alike as some of the most influential and important rap albums of this budding century, though able to stand alone outside of traditional classification. Each project was presented to audiences in the form of musical performance art, with alter egos and animated characters as lead actors in the music's visual identity.
Earlier in 2014, Madlib and Freddie Gibbs dropped the instant classic, Piñata, essentially a cinematic and musically soulful endeavor that unequivocally portrays Gibbs' gritty and personal stories about a dangerous existence in the drug game, with no apologies. The themes have been presented to listeners and fans before by others, but never quite like this.
Whether in the release of Piñata, or the 10th anniversary of the now legendary Madvillainy LP, Madlib represents a riveting intersection of musical experimentation and contemporary art presentation. The characters that sit in for Madlib's persona have become iconic identities in hip hop and underground culture at large. Fine artist Jason Jägel, Madlib's partner in Madlib Invazion, Eothen Alapatt, Freddie Gibb, and Madlib sit down to discuss sampling, being born into music, and the art of the fringe. —Gabe Scott
----
Gabe Scott: When you are locked in studio mode does your imagination follow any type of a visual path, a stream of consciousness? Or is it purely on an audio wavelength?
Madlib: I just stay open. I stay open and purely audio. Then, from the audio, you get pictures from chopping things up or arranging them a certain way. But I don't think about it too hard before it happens. You know, looking for certain sounds, and then from there getting colors and shit.
----
Jason Jägel: On those beats that you chose, was there something in particular that you saw in them? What did they embody for you?
Freddie Gibbs: Definitely, that would be the samples. It's just like seeing the music in colors, you know what I'm saying?
Jason Jägel: It's pretty cinematic.
Freddie Gibbs: Yeah, it's like finger painting. It's like when a kindergartener runs his hand in all the goddamn paint and shit. It fucks things up, but at the end of the day, it might just come out a work of art. So it was kind of like I had to really get my hands dirty with this shit, just dive in. You can't just get on those beats and talk about nothing. So I have to get real vivid. Not like the porn site, but just get a vivid representation of a point that I was trying to get across.
----