Juxtapoz
In the Magazine: Kikyz1313
June 30, 2014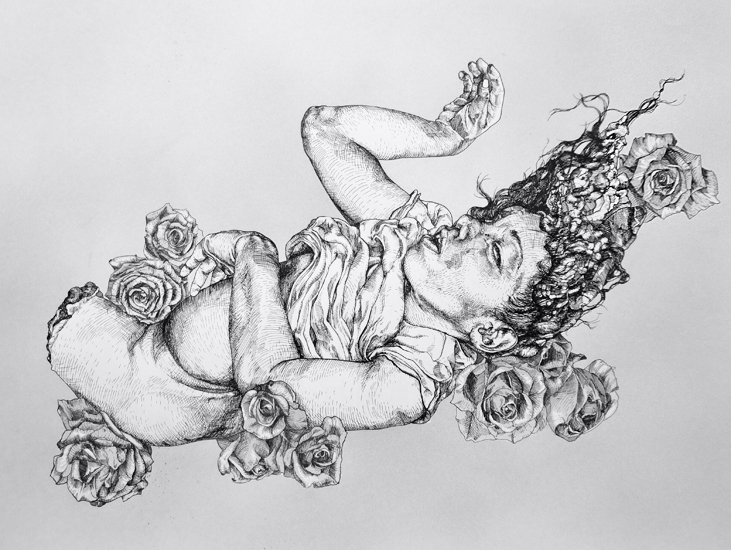 Death anxiety is an extremely common, persistent fear of our own destiny, and the inevitable outcome for us all. It's no wonder that this daunting unknown can propose an overwhelming fear as we are constantly attempting to guide and understand our very existence. The perception that we should be afraid of this reality, or the path to it, rather than revel in the beauty of life, seems almost as morbid as death itself. We seem to try and separate ourselves from that which we are made, the blood, the guts and decay, as if there was a choice. Few are able to embrace the often grotesque aspects and perceived visual aberrations of this cycle and put them in perspective, accentuating the beauty as a celebration. Kikyz1313 is one of them. She is able to fearlessly explore what makes us, finding beauty in the often aesthetically unsettling, and encouraging us to do the same. — Hannah Stouffer
----
Hannah Stouffer: You don't seem to be negatively affected by the deceased. What is your relationship with death?
Kikyz1313: Death affects me in the same way it does everyone else, but it's because of my desire to understand that I study this dilemma. You can say that its representation, in so many ways, helps me to assimilate death and my own mortality. It's through my work that I try to make people see the same thing that I've taken from it. More than feeling afraid or threatened by dying, I have a deep respect for time and decay. There's no need to be a mortician or a forensic surgeon to face death. Day by day, we are all confronted with it, when we see a firefly that died from the heat, witness a tree rotting, find a mutilated corpse of a dog at the side of the road, houses taking over crops, or when we see a loved one die from disease. These are events that we usually live through but it seems we never give them the significance they deserve.
----
Read the full interview with Kikyz1313 in our current issue, July 2014, on newsstands now.
Or recieve a free copy of the July issue when you subscribe today.