Chuck D of Public Enemy, the Earthist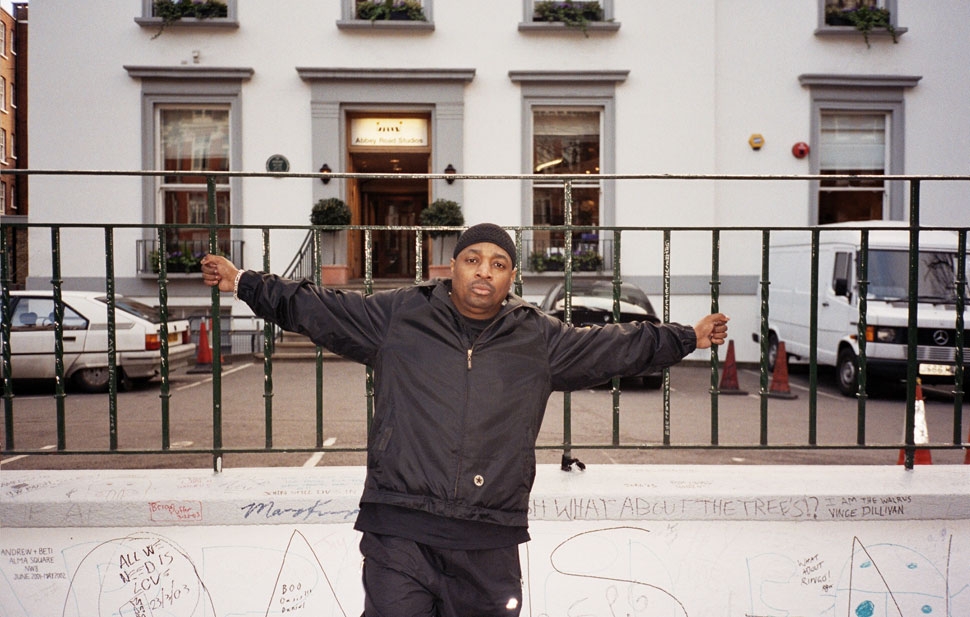 First thing you notice when speaking with Chuck D is that voice. It has the command of someone who has spent over 30 years as one of the most important MCs and intellectuals, not only on the subject of hip-hop, but of music and culture as a whole. Leader of the seminal musical force and Rock and Roll Hall of Fame group Public Enemy, Chuck is also an accomplished artist who earned his degree in graphic design at Adelphi University and became one of the originators of fusing logo work and art into hip-hop.

Photo: Walter Leaphart

On July 25, 2015, Public Enemy will release a new album, Man Plans God Laughs, that will once again stamp Chuck's iconic PE logo onto the forefront of contemporary culture. We spoke with the iconic frontman as he prepared for another summer of touring and discussed rock logos, cartoons, and being an Earthist at heart. —Evan Pricco
Evan Pricco: The distribution of music has changed drastically throughout your career in terms of fan interaction with the medium, as well as promoting new projects. How has that changed for you over the last 20 years?
Chuck D: You have to have direct contact with people. Whatever you do release will always be weighed up against what you did release. You have to develop your own belief system, develop your own world and be very committed to your core: both in yourself and in the people that follow you. So, even if it's a hundred people or ten people in a room, you gotta be consistent with that core and everything will follow, or it doesn't. You have to live by that. I think another thing that we have to understand in the 21st Century is that you have to really define clearly what you're not even as much as defining who you are and what you are.





Casual fans of music may not realize that you created the Public Enemy logo. When PE went on stage or released an album, there was a look, an overall image that you guys gave off that was strong. Were there bands before you that had that kind of aesthetic and that kind of vibe that inspired you?
Yeah, but they were in other genres, though. Lots of heavy metal and rock groups, like the Rolling Stones and Led Zeppelin, had logos and that look; and the punk movement or thrash-metal with Anthrax and Slayer. Those guys knew they had to have an identity that went beyond their sound. They had to be sight, story and sound. That's pretty much the epitome of where we all are as artists today. Sight, story and sound has to epitomize the entry into the artistic battleground.

Do you remember the first time you showed the Public Enemy logo to somebody and what their reaction was?
I used to do flyer designs back in the day on Long Island, so I would do logos for acts that didn't have one, or make up names for acts that didn't really exist when I was starting out. So when I made the Public Enemy logo, I was actually making a logo for a group that didn't exist! When Public Enemy came up as this group option, I just moved it from this other situation on over to us, and it fit perfectly. The thing that impressed me was when I saw it in a big gigantic arena-sized way, when we actually opened up for the Beastie Boys in 1987. We had the large backdrop made, and when the logo went up across the back of the arena, I was really impressed. It went from a sketchpad to a stadium. I was blown back. It stood out.

People say I studied art. I didn't just study; I graduated with an art degree. There's a big difference. When it came to be around that potential time of making logos, I wanted to make something that understood what a logo could do, you know? Look at the Rolling Stones. The tongue and the lips say it all without you looking at the font. I wanted to be able to make something that detaches. I don't think there's too many logos out there that don't deal with a font, that you can detach and know what it is. Wu-Tang is still the W, but that kinda comes close. But Public Enemy… no font whatsoever. Circle with a man, you know what it is.


Does it still move you today if you see a kid wearing a Public Enemy T-shirt? You made generation-defining music, and that stands the test of time. But something you created that was visual, does that mean something else to you?
Yeah. But that was the intention. You're more appreciative than shocked. What thrills me even more is when I see somebody 20 years old, or 16 or even 14 wearing the Doors, Pink Floyd or the Beatles, something 50 years before their time.
Where did you think studying in the arts was going to take you?
When I was at Adelphi University, there were two black cartoonists who took over the section in the school newspaper. It was me and Jeff Thomas, who was from a nearby town on Long Island. That was unique: we were two black kids, 18 years old, the school cartoonists as freshmen. I sort of played around a bit, got kicked out, but then I got back into school after making some deals with the dean because everybody thought I had great potential. But the thing that motivated me when I got back to school was that rap music came out, and it made sense for me to finish up school and head up some kind of art department that didn't exist yet for rap music. So my sole intention was to finish college and be a part of a record company in the art room.
Much of this issue examines environmental themes or concerns, and one of the tracks on your new album is called "Earthizen," which I knows touches on the subject.
Earth without art is just "eh." Basically, the best piece of artwork is the planet Earth. You might debate whether there's a God or not, but the design is impeccable. And I'm not going to be a person under the thumb of any government; the Earth is to be enjoyed as an incredible canvas, not to fuck up, but to enjoy in its artistic brilliance. So I'm an Earthist. I'm not a citizen of any one place on the planet other than the planet Earth, and at the core of my spiritual belief is art. Art and culture brings us together as a phenomenal human race while governments and corporations like to label us and put us in these little areas and categories that we have to aspire to. And I never really believed in that at all. At the core of my spiritual beliefs is my art, which is also my language.

That's really good.
I didn't make it up.
----
Originally published in the August, 2015 issue of Juxtapoz Magazine, available here.