Juxtapoz
In the Magazine: Carl Krull
October 13, 2014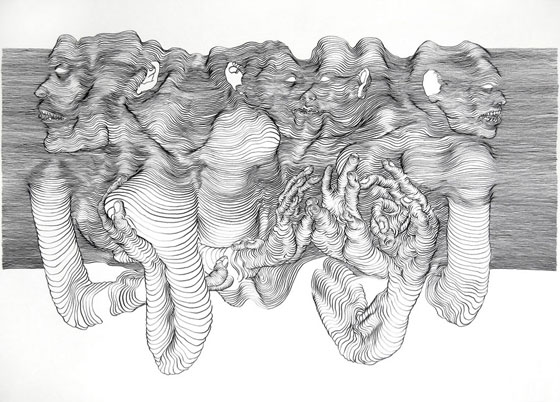 Read the full interview with Carl Krull in our current issue, November 2014, on sale now.
Or recieve a free copy of the November issue when you subscribe today.
----
Utilizing a sculptural approach in his work, Carl Krull draws lines that extrude the paper like stalactite in caves or growth rings in trees. The Danish artist, based in Copenhagen, is a consummate draftsman whose practice centers around drawing. His working style involves the invention of elaborate drawing techniques that may seem to constrain but actually break open new territory. On his road trip across the US, Krull worked on multiple scrolls, some of which were drawn while riding passenger, and a larger one done on multiple locations throughout the entire country. The journey itself and the method used recall Jack Kerouac's novel On the Road, which was typed on a continuous, one hundred and twenty-foot scroll.
In the past several months, I visited Carl Krull many times in his beautiful studio to document this work process, and we talked about the Seismic Mural, his road-trip across the United States, his Polish connection, as well as the physically demanding drawing process that mobilizes his art. —Henrik Haven
----
Carl Krull: Describe how you go about making a new drawing. Do you have a favorite element or phase in the work process that you enjoy the most?
Henrik Haven: I really enjoy the intensity of drawing. It requires a lot of focus and becomes very meditative. I always start by looking at the white piece of paper in front of me. One approach is to attack the paper without hesitation. I do a lot of damage and then clean up the parts I don't like with the eraser. Something will eventually emerge from the chaos that I can work with. In my recent work, I don't erase. It makes the whole approach very different. It might seem less spontaneous because every line stays, which could make me less eager to erupt in sudden freaky outbursts. But spontaneity can't be contained and I find a different form of tension in these drawings. It's impossible for me to select a favorite phase in the work process, but there is one thing I always aspire to achieve and always get. It's the feeling of wonder I get from looking at my own work. I never truly seem to understand that what I am looking at came from me. I feel as if I have tapped into something bigger than just myself to make it come to life.
I was surprised to see how physical the drawing process is for you. You put all of your body weight and force behind the initial linings on the paper and you describe it as "forcing energy into the line itself and the work as a whole." Tell us more about this part of the process.
On my latest drawings, to get the broadest line possible, I draw with a big chunk of graphite. But as the line gets broader, it can also get fainter unless I apply more pressure. Because of my predilection for thick black lines, the drawing process has a tendency to become very physically demanding. I like to think that some kind of energy is being transmitted during this workout, that something other than just sweat is being poured into the drawing. Maybe some kind of subconscious outburst takes place, something that obviates the need to go to a shrink.
----
The November 2014 issue of Juxtapoz Magazine is on sale now.