Juxtapoz
In the Magazine: Andrew Pommier
July 01, 2014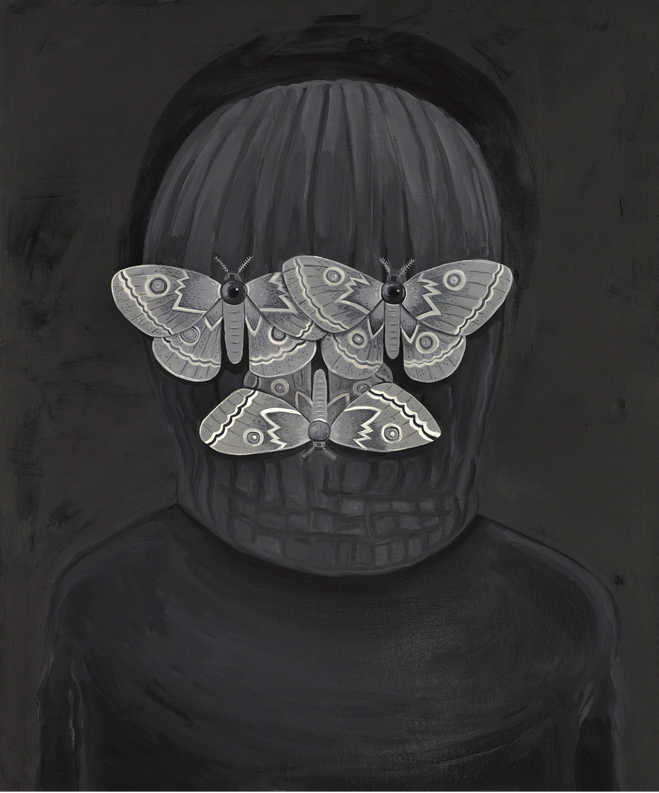 Andrew Pommier's art is like an old buddy from grade school, charming and full of mischief. His imagery resonates in our hearts because, like life, it's a mix of light and dark, cute and tragic. "It's funny because it's sad," has been a frequent response to his work, but he's heading in a new direction. Pommier's illustrative designs for skate companies and other clients are distinct from his paintings, and he's built solid careers in both areas, working with top players like RVCA, Adidas and Monster Children, and showing internationally. As he explains the current phase of his artistic evolution, he's starting to play it fast and loose, adding a new, calculated energy to his work. —Kristin Farr
----
Kristin Farr: You have more than one painting that says, "I hate your dog." Have you been wronged by a dog?
Andrew Pommier: I lived with a great dog named Raina for many years. She was a pit bull/whippet cross. I do like dogs, but within a certain range. Basically, I'm picky about dogs. I had been thinking about doing something with that phrase since moving to Vancouver, and it just recently came to fruition. It was just me being a contrarian and looking to get a rise out of people. Kind of juvenile, but also kind of fun.
Tell me why you like to draw animals smoking.
I like the device of a cigarette because it gives the sense of corruption. The cigarette is also something I like to add as it takes away the idea that I'm doing a straightforward painting of an animal.
You admittedly draw dark things to balance out a tendency toward cuteness, and I'm curious to know what kind of cute stuff inspires you. Are you also into horror movies, or do you have a harder time connecting with the dark side? Sometimes even your drawings of knives are cute.
Exactly, I draw cute knives. It's just the way my line works. I don't know how or why everything I do ends up being seen as cute. I think it has something to do with drawing the eyes too big, or the roundness of the fingers I draw. As a result, I need to skew the image the other way— basically, bunnies, but smoking and drinking, carrying a knife—or crossing out the face with quick, aggressive marks. It's always an uphill battle, which is fine. I really like Hello Kitty and My Neighbour Totoro, and any Miyazaki film. I'm actually fine with being on the cute scale, it's how I roll. I wonder if there is a version of the Kinsey Scale for cuteness? I'm not a fan of horror movies but, if pressed, I would rather watch something like the reboot of Friday the 13th or The Cabin in the Woods than that weird horror-porn like Saw or Hostel. I admit that stuff makes me uncomfortable even if it's fiction.
----
Read the full interview with Jesse Hazelip and Judith Supine in our current issue, July 2014, on newsstands now.
Or recieve a free copy of the July issue when you subscribe today.