Juxtapoz
In the Magazine: Alana Dee Haynes, April 2014
April 17, 2014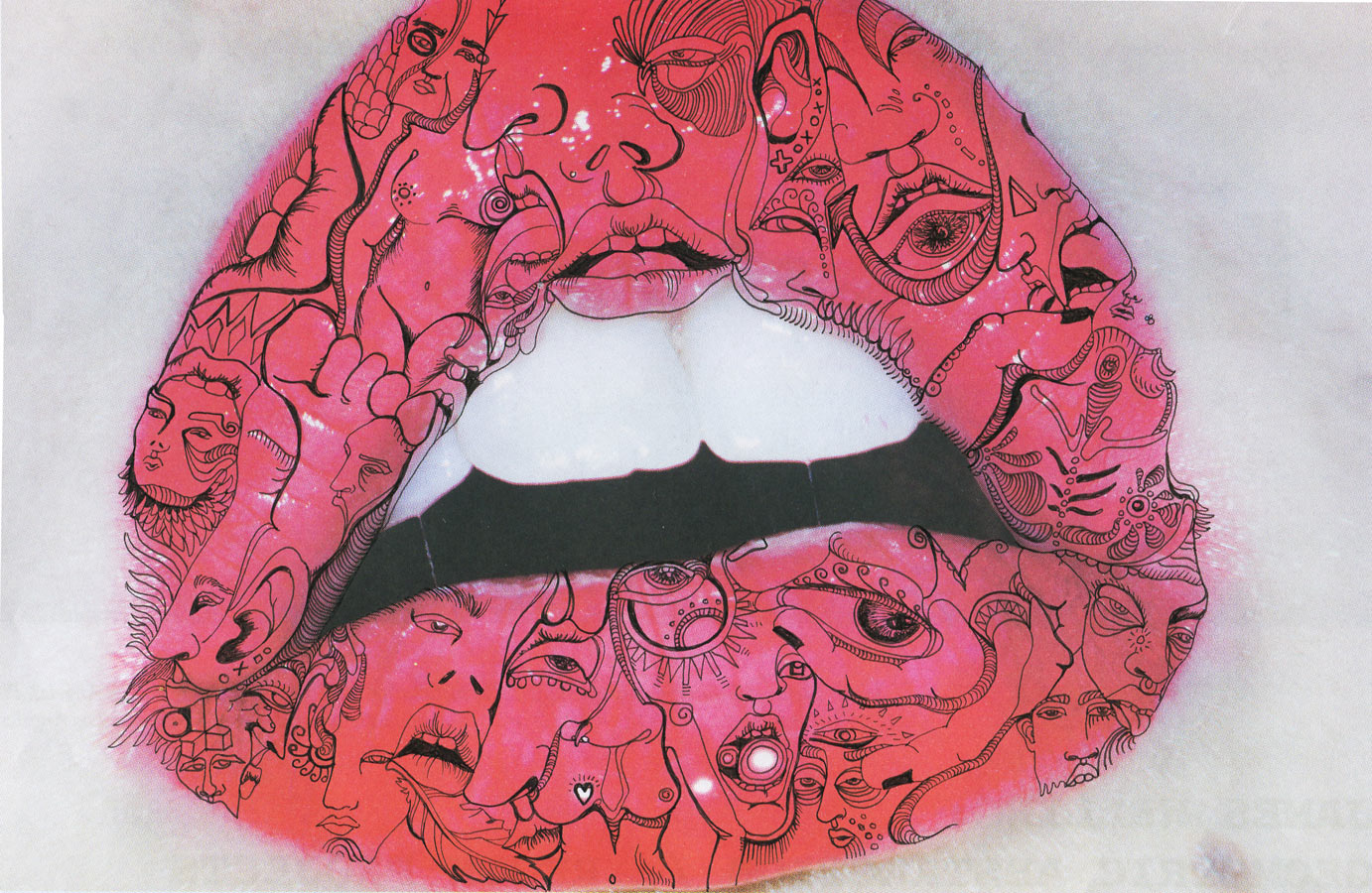 This interview was originally published in the April, 2014 issue of Juxtapoz Magazine.
We all see the world through a slightly different lens, and a good photograph, painting, movie, or song beckons us to see, hear, and maybe even feel, in a fresh way. Among other things, Amanda Dee Haynes sees patterns. And she has found a way to share, or perhaps just remind us of that perspective in a very literal sense, by drawing those patterns and details on photographs: snapshots of what someone else sees. This led to drawing patterns on what someone else wears, sharing her subconscious in a tactile and relatable fashion.
Alex Nicholson: Growing up in New York, where you also studied fashion for a while, did the culture and atmosphere have an influence on your pursuit of art? Was there that emblematic specific moment that led to the decision?
Alana Dee Haynes
: I think a lot of my creations as a young child were artistic omens for the future. I was raised on art; it's in my blood. I always went to schools that were very art heavy, and my parents would take me to galleries and museums frequently. I'm not sure if there was a definite moment, but I don't think I ever wanted to do anything else. I love the NYC art world and finding creative minds around every corner. It's always changing and exciting. There is always inspiration and people building uniqueness together.
Your work uniquely combines photography with illustration and fashion. Has the direction in which you've taken your art significantly changed over the years, and how have your interests evolved?
My style hasn't changed too much. Since I can remember, I've been drawing lines and dots into patterns. I've definitely started to focus more on fashion. There are always slight changes that happen based on my surroundings. I am still young, so for me, the past years were training for what I'm doing now, and I am interested to see how my art will change.
I believe fashion should bring out emotions and be relatable, as if wearing your own skin and mind.
The patterns and shapes you choose for each piece always seem to fit perfectly with the image, like they were just meant to be together. Can you explain how an image and photograph might influence your illustration, or vice versa? What do you see in a photograph that inspires you to draw on it?
Everyone has a certain way they see the world. Some things jump out at people, while others pass them by. I see faces and patterns everywhere. When I look at people, I connect their beauty marks, and find faces in their knuckle lines. It's just the way I live. So, naturally, I see these things in photographs too. It is not synesthesia, but it is a similar way of viewing multiple layers in things. I think other people must feel this way as well, and that is why it feels right and relatable to see images this way.
You draw inspiration from nature, and this is evident in your illustrations. Do you think we subconsciously find these types of patterns more visually appealing or comfortable because they are what makes up the natural world around us?
It's funny because nature is so close to us, but also still so outrageous. I can look in amazement at the pulp in a clementine every time because it has just been formed so delicately and beautifully. It is comforting to look at those patterns and feel connected to the eccentricity of nature. At least for myself, looking at water makes me feel beautiful, and the fluidity of drawing these patterns is very calming. I think people tattoo animals, waves, and flowers to bring those things closer. What we can't be is always appealing.
You interned at the International Center of Photography (ICP) and have cited Diane Arbus as someone who influences you. What is it about Arbus that you relate to?
Yes, I love Arbus! I was exposed to her work while at ICP, and then watched the film, Fur, about her life. It really spoke to me—the way she picked up on the smallest details of the world, and was in love with the mutations the world creates within us all. I saw a lot of myself in her. The way she stuck to her principles really inspired me.
When I look at people, I connect their beauty marks, and find faces in their knuckle lines. It's just the way I live.
How is photography a part of your work, and what led to you illustrating directly on it, rather than in a separate form?
The internship at ICP really allowed me to push myself in any direction I saw fit. My teacher, Keisha Scarville, let me run wild with my final project. I used the darkroom to create double exposures and drip the developer on the paper so only parts of the twisted image would appear. I drew lines in the white areas. It was the first time I felt like my art was completed (I am one of those people with 1,000 unfinished sketchbooks). From there, I just couldn't stop drawing on photos, and after some time, it became more natural to draw on images other than my own. I was less in my head about all the personal meanings with the image and was able to let loose.
While studying fashion, you spoke about rebelling against the traditional assignments and finding your own fashion. Do you mind talking about what turned you off, as well as your personal concept of fashion
? Looking back on it, I think the rebellion came from self-consciousness. I had just come out of ICP where I could express myself creatively, then dove into a world with so much structure and concern about technical skill. I've never been that great of a student, although I find education and self-experimentation very important as a practice to continue throughout life. In school, I had a personal style, comprised of mostly oversized black shirts, but I didn't consider it fashion. As I continued to draw on clothing, I felt a strange connection between the fabric and how I relate to skin. It was so similar to draw on, with lines and curves like in the human form. Before I knew it, I was coming up with clothing designs, a bit of a different style of sketching than a designer, but it really inspired me to bring these creations to life. When it comes down to it, I believe fashion should bring out emotions and be relatable, as if wearing your own skin and mind. And my skin is definitely full of faces and patterns. For more information about Alana Dee Haynes, visit
alanadeehaynes.com