IN L.A.: Steven Harrington @ Known Gallery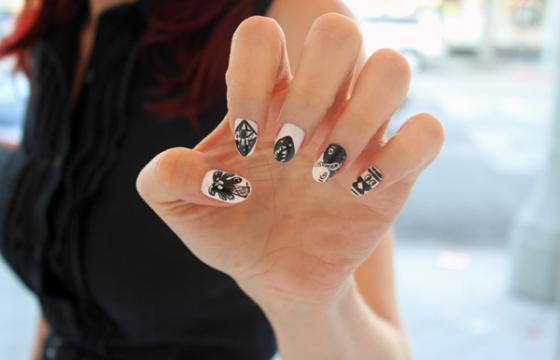 We stopped by Known Gallery this past weekend for the opening reception of former Juxtapoz feature Steven Harringtion's latest exhibition, Insideout. Insideout represents the artist's journey of discovery, while creating a similar voyage for visitors, allowing the dialogue between artist and viewer to continue as layers of meaning and understanding are added to this thought-provoking collection. Photos and more after the jump…
California artist Steven Harrington has created a colorful, inspiring world for Insideout, the first show held in his hometown of Los Angeles since 2009. Harrington's solo exhibition will be on view from August 18 to September 1, 2012 at Known Gallery. Insideout represents the artist's journey of discovery, while creating a similar voyage for visitors, allowing the dialogue between artist and viewer to continue as layers of meaning and understanding are added to this thought-provoking collection. New works of art including recent paintings, prints, drawings, and sculptures reveal months of unearthing and exploring, a concept Harrington hopes to expand as each visitor forges their own path of discovery. The title reflects Harrington's process and the ultimate goal of the show: to take the inner, intuitive workings of an artist and draw them out, sharing the experience with the world.
"To follow intuition is to create," Harrington explains. "It that can reveal new life, new possibilities, and new beginnings. It's completely unexplainable, that's what makes it so beautiful. What does intuition look like Insideout?"? ?Insideout marks a number of firsts for the artist. Harrington has recently delved into the world of sculpture and the exhibit will unveil his biggest sculpted piece yet. The show will also feature enormous graphite renderings, exploring the art of balance with totem-like structures of anthropomorphized everyday objects. Shown together, they tell a story of struggling to seek harmony that everyone will find familiar. The pencil drawings are Harrington's largest to date. They represent an inaugural collaboration as well. Harrington teamed up with Swiss publisher Nieves to create the book Remain in Balance, which puts the story of his graphite renderings in print. It functions as a small catalog for Insideout, but also as a captivating stand alone piece.
The show also includes a collection of tablet-like relief sculptures. Originally concepted during the downturn of the economy, Harrington views them as a way of etching optimism in stone, similar to the way one would etch their initials in a tree.
In addition, a wall of striking prints will be on display. Harrington began the process by creating sculptures that he photographed, making prints that he then altered and embellished. The result is a series that vibrantly examines the relationship between art and artifact.
This exhibition is generously supported by Generic Surplus, who shares Harrington's fascination with Southern California culture and desert intrigue. The project marks the third collaboration between Harrington and Generic Surplus this year. A new Harrington-designed Generic Surplus collection will be released the final day of Insideout.
Following are a few images from the opening reception, however this a stunning exhibition you should really try to stop by and seen in person.
-Amy Duran
Steven Harrington
Insideout
Known Gallery
Through September 1, 2012