In L.A.: Post Moral Neanderthal Retardist Pornography @ Subliminal Projects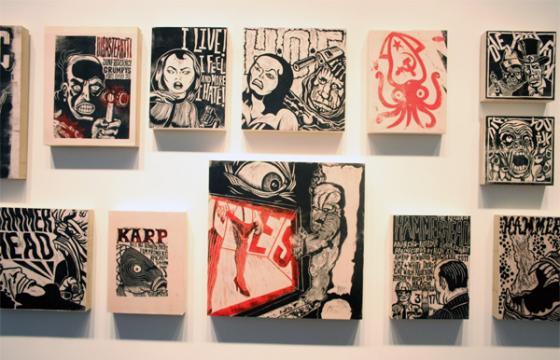 We stopped by Subliminal Projects this past weekend to check out the opening of "Post Moral Neanderthal Retardist Pornography" an exhibition curated by Tom Hazelmyer with music by members of the Melvins, Hammerhead, Halo of Flies, Chrome and Husker Du. Photos and more after the jump…
Guest Curated by Tom "HAZE-XXL" Hazelmyer with music by members of Melvins, Hammerhead, Halo of Flies, Chrome and Husker Du.
SUBLIMINAL PROJECTS is pleased to announce Post Moral Neanderthal Retardist Pornography, an exhibition of new linocut work by Tom Hazelmyer (founder of Amphetamine Reptile record label) and the release of a Melvins/Hammerhead split, picture-disc vinyl featuring art by Chris Mars, Camille Rose Garcia, HAZE-XXL, Junko Mizuno, and Shepard Fairey. Also on display will be work by Melvins' in house artist Mackie, the subversive surrealism of collage-maestro Math.i, and the art of Husker Du's Grant Hart.
For a generation, Minneapolis label Amphetamine Reptile (AmRep) was the definition of heavy—not just for ahead-of-their-time releases by the Melvins, Helmet, Halo of Flies, and others—but for its unflagging commitment to DIY-the-hard-way ideals and founder Tom Hazelmyer's (also known as HAZE-XXL) uncompromising vision. AmRep was, and continues to be, dedicated to musicians who find their own sound and fight to keep it authentic. The label simultaneously seeks out new and established visual artists who are just as righteously iconoclastic as the musicians they carry, always seeking to launch the careers of new talent.
More than twenty years after founding AmRep and helping propel iconic artists like Shepard Fairey, Frank Kozik, Coop and Chris Mars to cultural prominence, Hazelmyer presents Post Moral Neanderthal Retardist Pornography. This music and art collision encompasses records turned objects d'art, visual artists and musicians, all melded into a sticky ball of eye-and-ear melting protoplasm.
The exhibition opens at SUBLIMINAL on Friday, June 8th before traveling to TT Underground Gallery in New York City on June 30th. Opening night will be sound-tracked by members of Melvins, Hammerhead, Halo of Flies, and Husker Du performing live in a specially constructed, closed-door setting. The lo-fi performance will be experienced via live audio stream and projections on gallery walls. Following the opening, AmRep mainstays Hammerhead, Helios Creed (Chrome), Gay Witch Abortion, Seawhores, and Hepa/Titus (Cows) will perform live at the Echoplex.
Following are a few images from the opening reception, however this is an exhibition you should stop by and check out in person.
-Amy Duran
Post Moral Neanderthal Retardist Pornography
Subliminal Projects
Through June 22, 2012