In L.A.: Miles Thompson @ La Luz de Jesus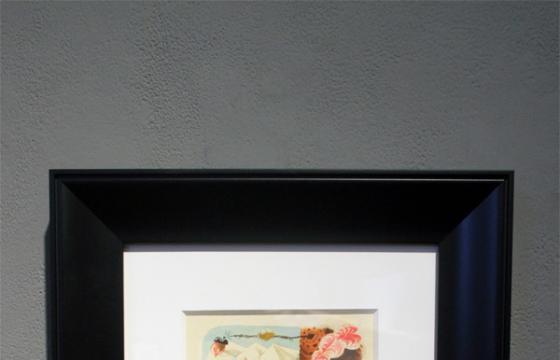 We stopped by La Luz de Jesus Gallery to check out Miles Thompson's latest solo exhibition, Warm Fuzzies, Cold Pricklies. Miles Thompson has chosen Gouache on illustration board to create his new body of work, a show which reflects on what makes life both a beach and a bitch. It is an epitaph for the oceans and forests, once abundant and fecund (look it up, it is the root of the F bomb), now only a ghostly reminder of what an infinite life giving power they once were.
There is more than just an environmental message here, "Warm Fuzzies, Cold Pricklies" is also a joyful reminder for us all to frolic around and about the impermanence we all face day to day while we are blessed with a heart, body and mind. Life happens between the lullaby and the nightmare, having and losing. Everything in-between is either a memory that we don't want to fade, or which is sadly indelible.
Thompson, whose influences range from the ephemeral world of comics, animation and album cover art to centuries of fine art and sculpture, is a native Californian residing in Hollywood who draws, paints, reads, writes, hikes, runs, surfs and meditates. He is most inspired by his daughter who he calls his butterfly.
Following are a few images.
-Amy Duran
Miles Thompson
Warm Fuzzies, Cold Pricklies
Through July 29, 2012
La Luz de Jesus