In L.A.: Memory Foam Photographs By Ed Templeton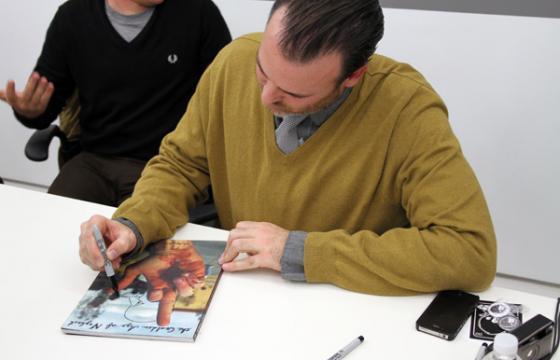 This past weekend we stopped by the jam packed opening of Memory Foam, Ed Templeton's latest solo exhibition at Roberts & Tilton Gallery in Los Angeles. Photos and more after the jump..
In his most recent exhibition, Memory Foam , Templeton takes a close look at his hometown of Huntington Beach, California, a sprawl of suburbia, "mile after mile of
walls that form a hard shell around the housing tracts where beige brick dividers represent the barrier between people's backyards and the major street," or less obviously perhaps, a division between the sanitized ideals of a planned community and the real world. Templeton's choice to focus specifically on the "downtown" and Main Street, once a boulevard of skate shops, bikini stores and dive bars, where "people would hang out watching the fights between skinheads, jocks and local boys," represents a journey back to his old stomping grounds, redefining not only the artist's own personal relationship to his past, but to a larger cultural tapestry. Through these images, Templeton navigates his own unique history, and his experience as a professional skateboarder, painter and photographer, defined by Huntington Beach's particular brand of beach culture, now gentrified, yet still energetic and vital.
With these recent images, Templeton creates a visual lexicon of the people who live and work in Huntington Beach, telling their stories with sensitivity, wit and compassion. Templeton's photographs, as with his other work, rarely concerns itself with literal space and time, but more importantly and emphatically with an enigmatic and complicated human impulse to create anything at all, prompting the artist to "explore the love/hate relationship I have with this city," no longer taking it for granted, but celebrating the city as its own strangely compelling enigma.
Following are a few images from the opening reception, however this is a stuning collection you should definitely stop by and experience for yourself.
-Amy Duran
Memory Foam
Ed Templeton
Roberts & Tilton
Through Feb 16, 2013